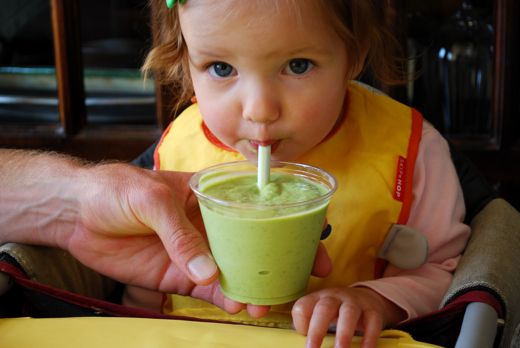 I don't normally drink my vegetables, since eating them tastes so good and fills me up more.  But lately I've been making fruit & veggie smoothies for Lucy – partly because it's so easy, and partly because she loves anything that requires using a straw.  Today for lunch she had a spinach and avocado smoothie.  Sounds kind of gross, but Lucy couldn't get enough, and both Tyler and I agreed it tasted like a rich, creamy treat.
Aaaaand…forget the straw, let's just get this smoothie down already!
Baby Smoothie
Ingredients
1 cup baby spinach leaves
1/2 cup plain lowfat yogurt
1/2 small avocado
1/2 banana
1/4 cup vanilla soymilk (or any milk of choice)
1 cup frozen mango chunks
1/2 cup frozen peach slices
Instructions
Combine the first 5 ingredients in a blender until smooth. Add the frozen fruit, then pulse until well-blended. Serve with a spoon or straw. Makes 2 servings, or about 4 baby-sized servings.
http://eating-made-easy.com/2012/03/02/baby-smoothie/