If you're like me, you can always use some new school lunch ideas. Here are some of Lucy's recent packed lunches. I'd love to hear what your kids are loving lately too!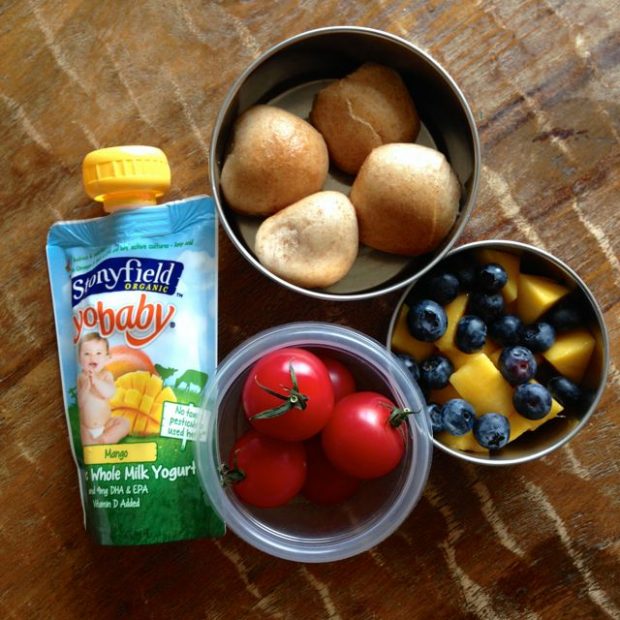 Stonyfield YoBaby pouch, bagel bites with cream cheese, cherry tomatoes, blueberries & mangoes.
French baguette with butter, Eda-zen edamame, strawberry slices, almonds & dried cherries.
Bagel bites with cream cheese (this was a favorite), cherry tomatoes, kumquats, berries and pistachios.
Plain yogurt, homemade granola, strawberries and an apricot (yay for summer fruit!).
Stonyfield plain yogurt, homemade granola, strawberries & pineapple, pistachios and Annie's Cheddar Bunnies.
Cheese quesadilla, veggies with hummus, cranberry beans and freeze dried apple chips.
Stonyfield YoToddler pouch (pureed beets in this one!), Applegate organic beef hot dog, grape tomatoes, raspberries, Honest Kids fruit drink (Note: normally I don't give Lucy juice with meals, but it was super hot this week and I wanted her to stay hydrated).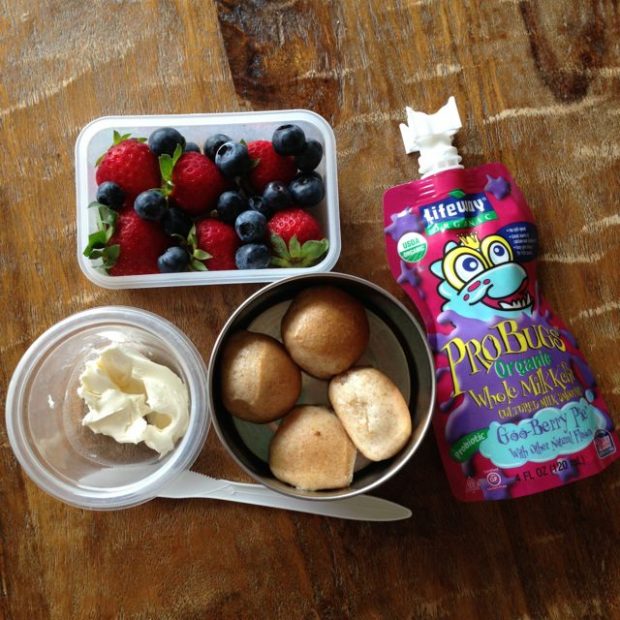 Bagel bites with cream cheese (to spread herself this time), fresh berries, organic kefir pouch.
Cream cheese & olive tapenade sandwich, raspberries, pistachios, low-fat yogurt tube.
Lunch at home when Lucy had a cold: Earthbound baby kale salads with sides of corn on the cob and roasted tofu. Note: If I put salad in Lucy's lunch she won't eat it, but she does like it at home. In general, I find her desire for vegetables to be higher at home, so I pack lunches with foods she'll eat and save most veggie servings for dinnertime.
Want more lunch ideas?
Check out these posts: