It's been awhile since I've shared packed lunch ideas, and given that we're almost to Spring Break – I think it's high time!
Below are 10 of the lunches I've packed for Lucy lately.
You might notice they're a little low on veggies, a little high on refined carbs, and don't include any mixed dishes. Well, that's because Lucy…
Is more of a veggie-eater at dinner time, so I don't send her with tons of veggies at lunch time (when I do, they often come back home uneaten) and instead amp them up later in the day.
Is really into white carbs right now (Who isn't?). I'd love for her to eat more sprouted, in-tact grains, but I don't have the energy for Carb Wars at the moment.
Loves cheese and yogurt. These are her favorite (or only?) sources of protein, along with the occasional beans.
Doesn't care for foods when they're mixed together. Sigh.
Rather than fight the above, I'm just going with it. I notice that when I don't make a big deal out of stuff, it tends to taper off and she starts trying new foods again or eating more of a variety. In the meantime I'm continually offering lots of veggies, plant-based proteins, and new combinations whenever I can.
What school lunch foods have your kids been loving?
Nature's Path flax waffle with butter, mango, strawberries, and a Colby jack cheese stick.
Annie's Shells with White Cheddar, organic/fair trade golden tomatoes, pink lady apple slices, Pamela's fig cookie.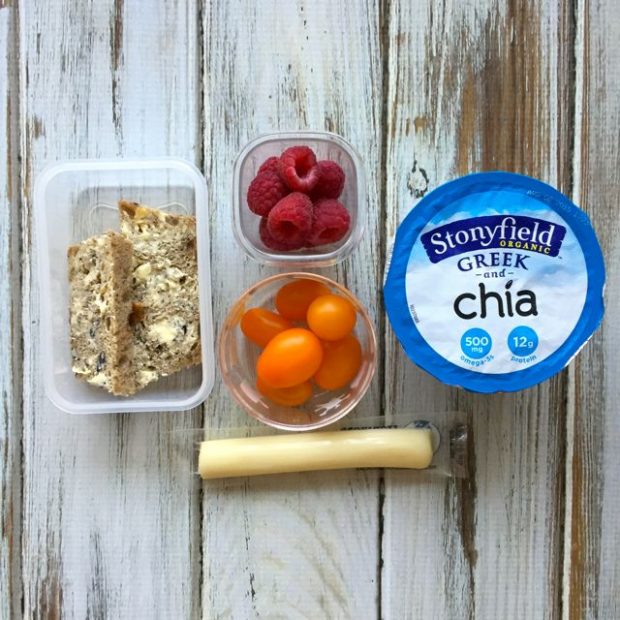 Olive bread with butter, raspberries, golden tomatoes, organic string cheese, Stonyfield Greek & Chia yogurt.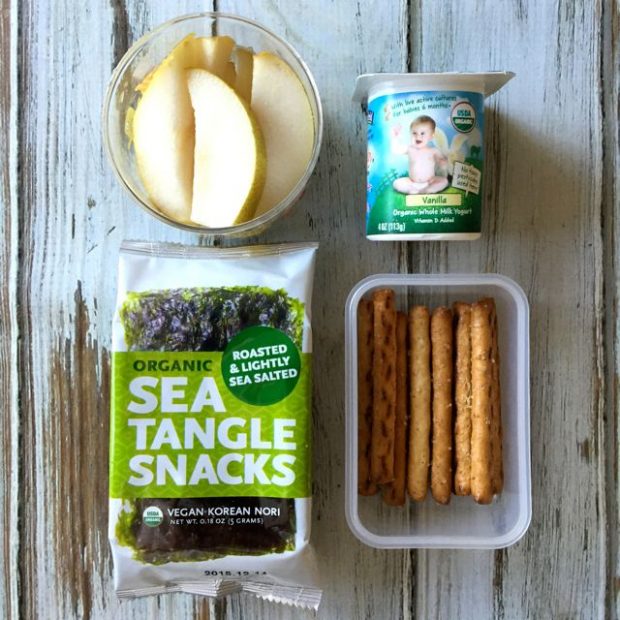 Seaweed snack, pear slices, YoBaby vanilla yogurt, honey wheat pretzel sticks.
Ham & cream cheese wrap, organic kefir pouch, purple carrots, orange slices.
Pita bread with homemade pesto for dipping, almonds & pink yogurt raisins, white beans, strawberry slices.
Cream cheese & honey sandwich, Fork in the Road ham, Bosc pear slices, trail mix.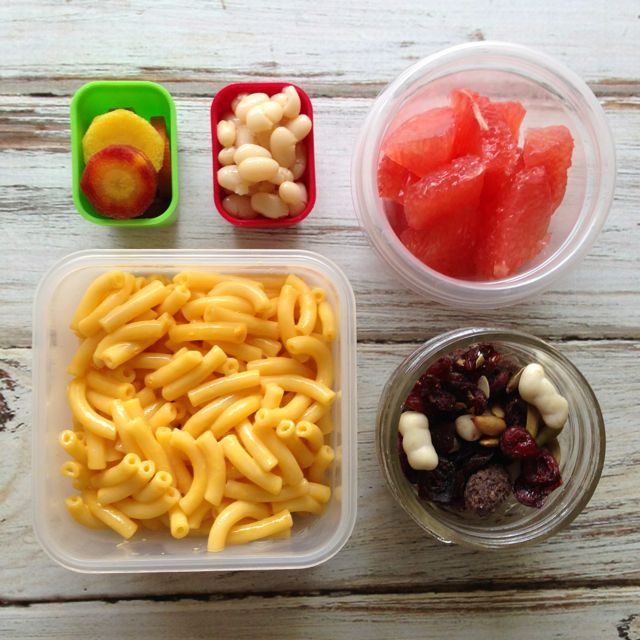 Annie's mac & cheese, trail mix, grapefruit slices, white beans with olive oil, rainbow carrot "coins."
Applegate turkey, Colby cheese, strawberry slices, snap peas & tomatoes, pita bread stars with hummus & olive tapenade.
Heart-shaped quesadilla, refried beans, brown rice, raspberries, Honest Kids drink (b/c it was so hot out!).