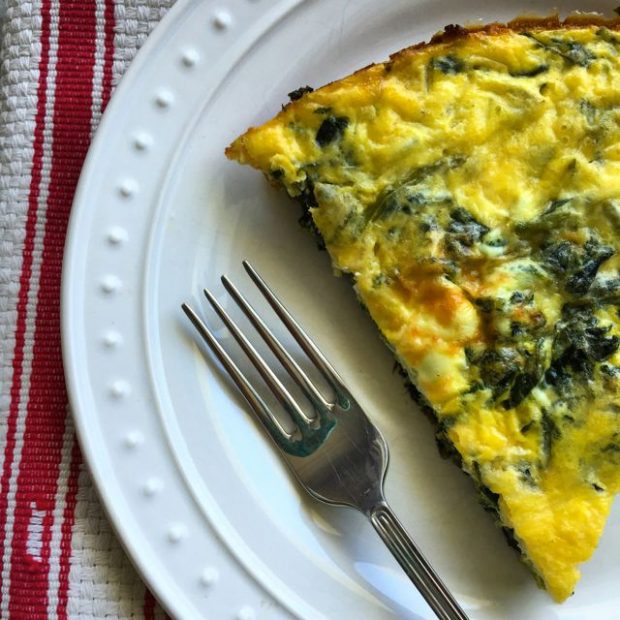 When in doubt, make eggs for dinner.
There's really nothing easier, and when you combine eggs with veggies – fresh or frozen – and cheese, you get a tasty, satisfying, healthy dinner in virtually no time at all.
One night several months ago we were out of fresh veggies and had no protein foods in the fridge besides eggs, cheese and milk. So I quickly tossed some sliced onion into a skillet along with olive oil and a bag of Earthbound Farm's frozen rainbow chard. When those were heated through I added a handful of leftover chopped cilantro, some shredded Pepper Jack cheese and 6 beaten eggs with a little milk.
15 minutes later – after a quick stint in the oven – this frittata was on the table and ready to be devoured by some very hungry eaters.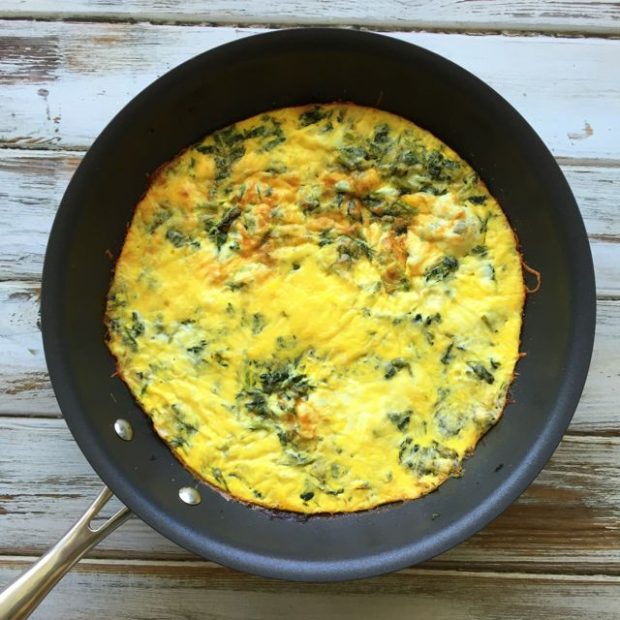 Since then, we've had this for dinner at least once a week. I add different greens depending on what we have (this is a great way to use up nearly-wilting salad greens), but the formula is the same every time. We love it with thick slices of whole wheat toast, or roasted sweet potatoes when I've planned ahead a little more.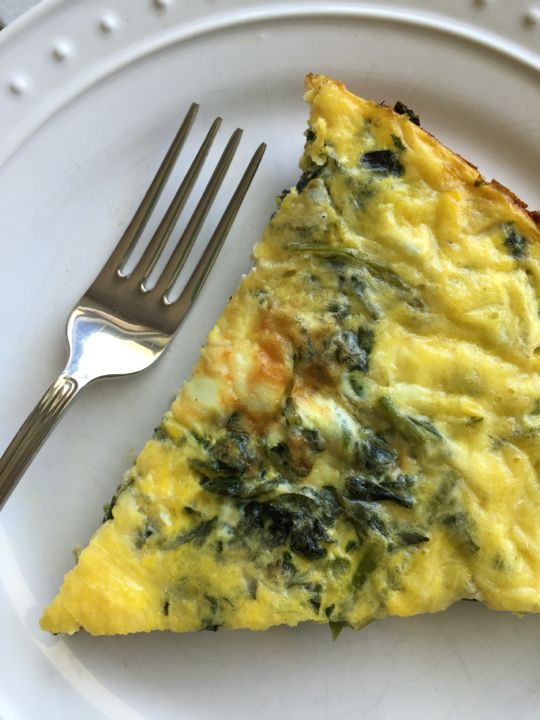 Make this once and I'm guessing it will become one of your go-to's also!

Easy Frittata with Greens and Cheese
A super quick, nutritious weeknight meal.
Cuisine:
breakfast, dinner
Serves:
4 main dish servings
Ingredients
2 Tbsp extra virgin olive oil
1 cup onion, chopped or sliced
1 10-oz package frozen greens (spinach, kale, rainbow chard, etc)
6 eggs (using 4 or 5 works too, the frittata is just less eggy and more veggie-heavy)
½ cup milk
1 cup shredded Pepper Jack cheese (or any other cheese)
salt & pepper
Instructions
Preheat oven to 400 degrees.
Heat a large skillet over medium heat.
Add oil and onion and sauté 3-5 minutes or until slightly softened.
Add frozen greens and stir until heated through.
Beat eggs and milk in a mixing bowl along with a pinch each of salt & pepper.
Pour the egg mixture into the pan, sprinkle the cheese on top, then place whole pan in the oven and bake for 12-15 minutes or until the middle of the frittata is firm.
Let cool 5 minutes, then cut into wedges and serve.