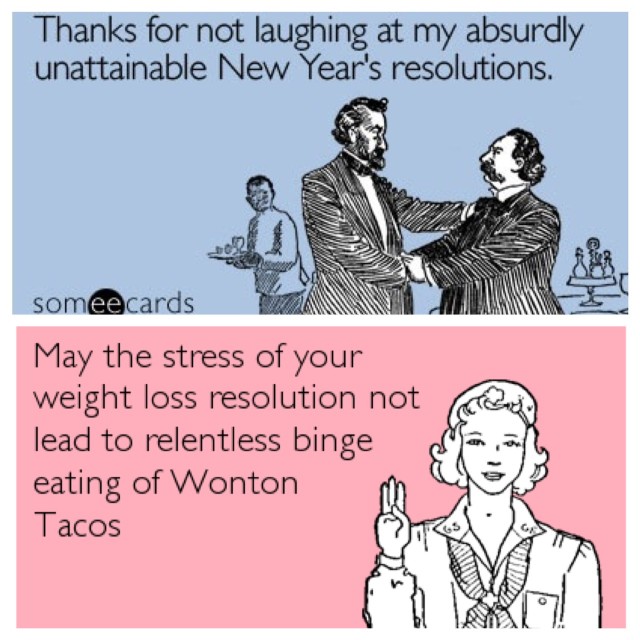 We're all famous for not keeping our New Year's resolutions. Hardly anyone ever does – which is why there are so many jokes about the matter!
Here's why we fail: We make unrealistic goals.
Most resolutions are lofty and overwhelming, things like "Lose 20 lbs" or "Get in shape" or "Spend less money."
Even just typing those phrases stresses me out. These so-called "goals" are the opposite of what resolutions should be: specific, measurable, and attainable.
Let's make this year different. Let's prove stereotypes wrong. Let's actually achieve what we resolve, so we can truly feel healthier and more free.
How?
By setting realistic, specific and measurable goals.
Below are 15 resolution ideas, all related to eating healthier or losing weight, since that's what many of us resolve to do each January.
15 New Years Resolutions You Can Actually Keep
1. Schedule a time to grocery shop every week. Set aside 3 hours each week to make a list, buy groceries and unload or prep what you've bought so your fridge and pantry are stocked with healthy, ready-to-eat foods. Make sure to take inventory in your kitchen before you go.
2. Eat a vegetarian lunch or dinner each day. Leaving meat to only one meal per day is a great way to help increase the vegetables and plant-based proteins in your diet. Whether you're making food at home or eating out, choose a veggie-heavy meal at least once per day.
3. Make fast food restaurants within 50 miles of your house off-limits. (This tip is borrowed from Nutritionella – love this idea!!). Save fast food for the very occasional road trip, airport or whenever you have no other choices.
4. Take a basic cooking or knife skills class. If you're a novice cook or used to eating out, making meals at home can be discouraging or take forever. Sign up for a class to help you master the basics, so you can avoid simple mistakes that make cooking more difficult.
5. Switch to plain yogurt. If you eat yogurt regularly, buying plain can greatly reduce your sugar intake, which equals fewer empty calories. Add your own fruit, shredded coconut, or even a little of honey or maple syrup if you like a sweet taste; you'll still be eating less sugar.
6. Read package labels. Many packaged and prepared foods contain all sorts of buzz words to convince you they are healthy when they're not. Becoming a label-reader will allow you to steer clear of fake health food and bring home better choices. Remember, the fewer ingredients the better.
7. Switch to whole grain carbs. Start buying whole wheat bread, whole grain cereals, whole wheat tortillas, etc. You'll increase your fiber intake (which helps keep you satisfied) and will by default avoid many empty calories.
8. Make all sweet treats from scratch. If you have to make cookies, cakes, pies, ice cream and candy from scratch instead of buying them, you probably won't eat them as often. But you'll feel assured that they're not "off limits."
9. Set a timer for 15 minutes while you're eating. Most of us wolf down our food, which means we may not recognize when we're full nor get much pleasure out of meals. Spend at least 15 minutes eating, so you can relax a little and enjoy each bite.
10. Keep a food journal for two weeks. Become aware of your current habits by writing everything down for two full weeks. Then look back and see if there are any habits you could change that wouldn't make a huge difference in your lifestyle (like leaving cheese off your sandwich, or snacking on veggies instead of chips while making dinner).
11. Make one new recipe each week for three months. Do it on the weekend if weeknights are busy. By the end of three months, you'll have 12 new recipes under your belt that you can make with frequency.
12. Start eating breakfast. Breakfast starts your metabolism off on the right foot each day, and makes you less likely to make poor choices later in the day. If you're not hungry when you wake up, you may be eating too much at night. Avoid eating two hours before bedtime and you'll be more ready for breakfast in the morning.
13. Replace one beverage per day with water. If you drink juice, soda (even diet), sweetened coffee, wine, beer, etc. – swap out one of these drinks per day with water. You'll likely lose weight slowly, just from this one small change.
14. Eat your vegetables first. Whether you're at a restaurant or at home, start your meal with a salad, fresh veggie appetizer or veggie side dish. You'll begin feeling satisfied and then eat less of the heavier stuff.
15. Vow to avoid doing anything extreme. There are no quick fixes out there, and if you find one, it won't last. Resolve to skip the cleanses, diets, pills, deprivation, etc. and you'll have a LOT more success, plus find yourself a LOT happier.
If you have other ideas to add to the list, please share!
Images from Someecards.