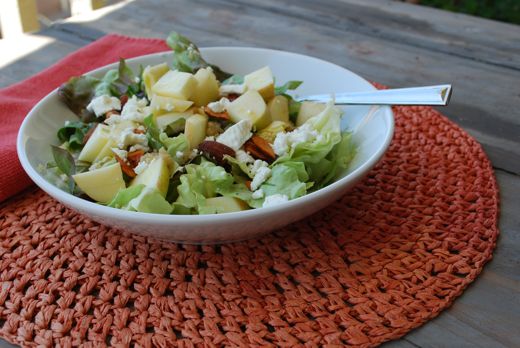 The other day I told you that I now "assemble" meals instead of "cook" meals, and that salads are my go-to dish.  I make salads with whatever fresh veggies and fruits I have on-hand, but always follow my 5 step formula for a delicious salad.  Below are a few examples of what I've been making lately.  Mostly they're meatless, but you could add a little chicken, fish, boiled egg, or tofu if you'd like.
1.  Arugula salad with quinoa and dried cherries.
You can substitute any cooked grain (rice, couscous, even small pasta) for the quinoa, and can use dried cranberries, raisins, or chopped dried apricots in place of the cherries.
2.  Strawberry Salad with Goat Cheese & Almonds.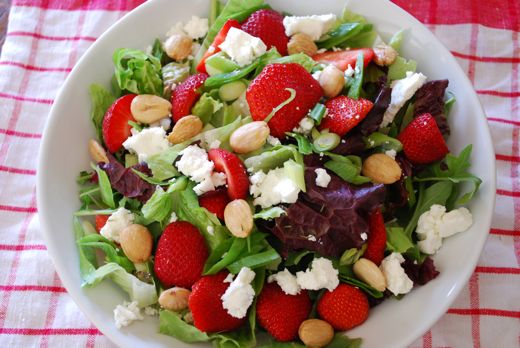 Add some steamed fresh asparagus spears or sliced snap peas to make this salad even more Springy.
3.  Beet Salad with Feta and Fresh Dill.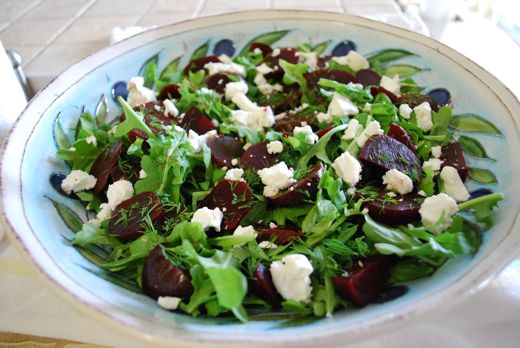 For more color and visual appeal, use a combination of golden and red beets; and if you like more crunch – candied walnuts or pecans are a great addition to this salad.
Enjoy!
Note: If you don't "feel full" after eating salad for a meal, eat more!  Vegetables are low in calories so you have to eat a lot in order to feel satisfied.  When we eat salad as a whole meal I make an enormous salad bowl for just my husband and I – you would think we were having company for dinner – but it ends up being just the right amount.  Salad is one of those things you can't overindulge on (if your salad is made from primarily greens and veggies, that is), and if you don't eat enough you're likely to snack on less healthy things later.