You may have heard that grass-fed dairy is healthier than conventional, but why? Can milk products really be that different from one another?
Well, yes.
Here are some distinct differences:
 Milk from cows who eat grass is significantly higher in heart-healthy fat than milk from cows who eat grain feed (what most conventional cows eat). Read more about the nutritional differences here.
The taste of grass-fed dairy varies from carton to carton, since the nature of the grass varies too. These flavor differences can promote acceptance of more foods and help expand children's palates.
Cows were meant to eat grass, so when they're doing so, they are in better health. They don't get sick as often (which means fewer antibiotics) and they release less greenhouse gasses into the air than conventional cows. The grassland itself also helps remove carbon dioxide from the atmosphere. Raising cows on pasture – as opposed to in Confined Animal Feeding Operations (CAFO's) – is the most eco-friendly way to produce dairy. Healthy cows = healthy dairy products + healthier planet.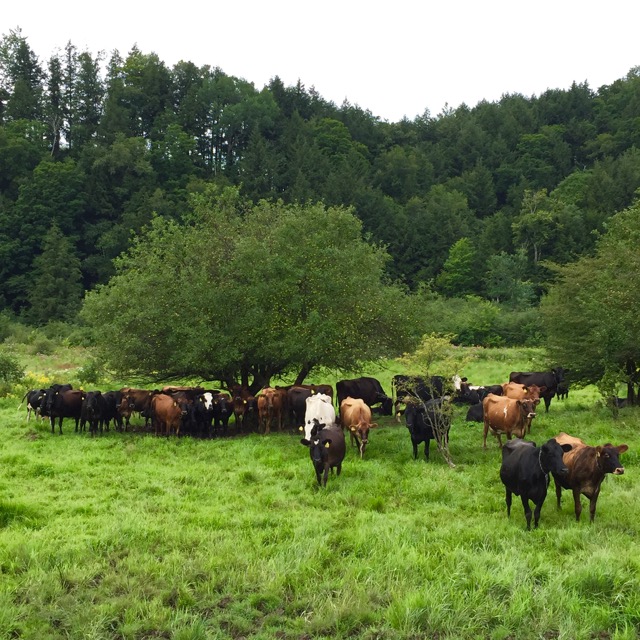 Answers to other common questions…
What does it mean to be "grass-fed?"
The term "grass-fed" means that cows are fed grass 100% of the time. However, this term is not regulated, so in order to ensure you're getting what you think you're getting, make sure to choose "Organic grass-fed" dairy products. Since these products are organic, by definition they are also produced without the use of GMOs, growth hormones, antibiotics and pesticides.
How can cows eat grass during the winter, especially in cold places?
During the winter, grass-fed cows eat dried grasses.
How do I know what products to choose?
Choose organic grass-fed dairy products whenever possible.
Why is grass-fed dairy more expensive?
Only a very small percentage of farms produce 100% grass-fed dairy, so there is more demand than supply which means a higher price. Grass-fed dairies also require more grassland, which requires more upkeepMore grassland is also necessary – which requires
Are there any conventional farms where cows do eat grass?
Yes, there are some conventional farmers around the country (in places with a lot of rain and green space) that let their cows outside to graze on pasture part of the time. But as a consumer, it's impossible to know whether the dairy you're buying comes from these farms or from feedlot farms, since there's no distinction on the label. If you want a 100% grass-fed product, look for the term "organic grass-fed."