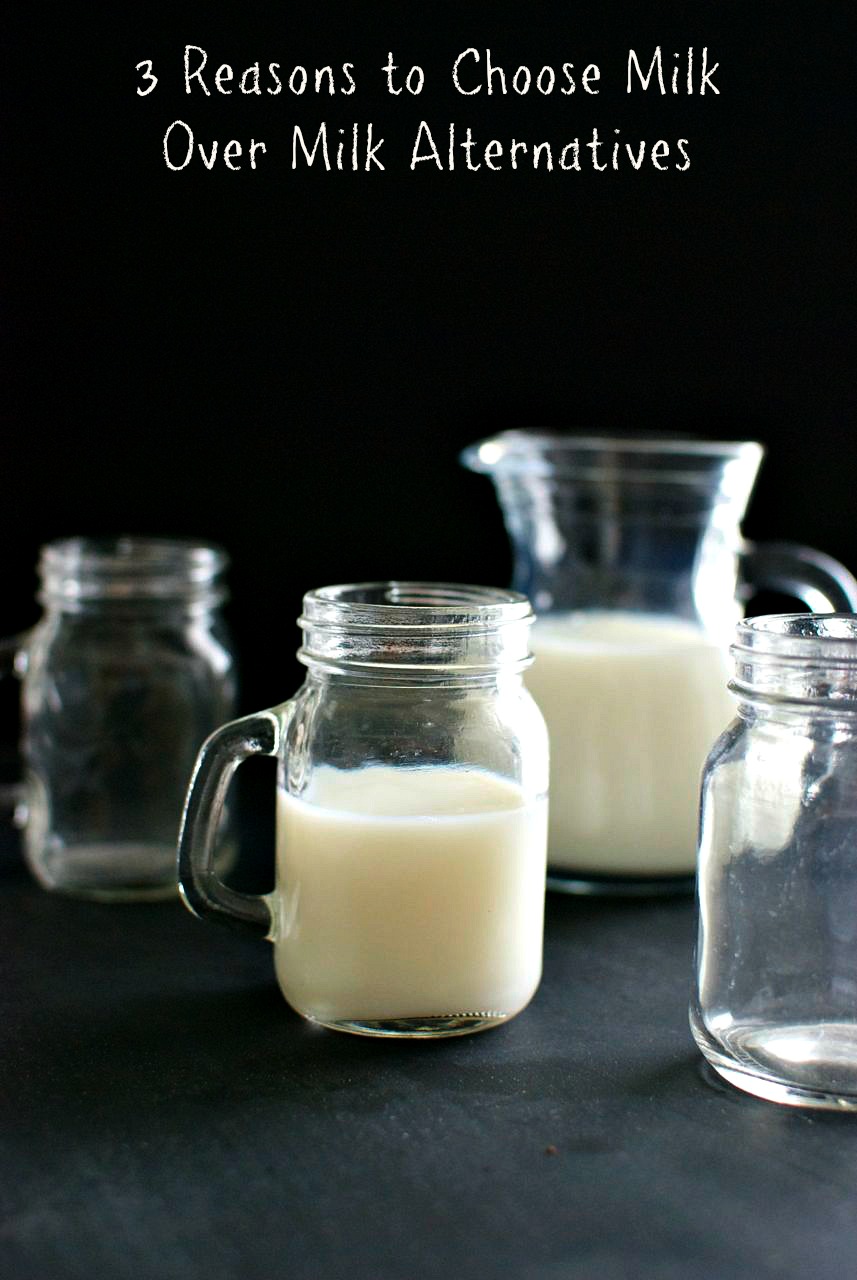 Twenty years ago, milk meant one thing: cow's milk.
Now, heading to the grocery store to buy "milk" could mean something wildly different.
From soy to almond to hemp to coconut to grain — the milk options these days are seemingly endless. And most people feel a little overwhelmed when it comes to choosing the healthiest milk for their family.
Today I'm going to break it down for you.
The Healthiest Milk
If you aren't vegan and don't have food allergies, cow's milk is the most nutritious choice, if you buy organic. Cow's milk:
Is the only milk with significant naturally-occuring calcium – 30% of your Daily Value.
Offers the most protein – 8 grams – of any milk.
Has no added sugar – only naturally-occuring lactose.
These characteristics are unique to cow's milk. Milk alternatives may be heavily fortified with calcium and other micronutrients, but that's more like taking a vitamin with a glass of water, than eating a nutritious food. Our bodies tend to be more efficient with naturally-occurring nutrients and thus we absorb more from real food, than from processed foods.
Why Choose Organic?
Organic milk by definition does not contain:
antibiotics
artificial growth hormones (rBGH, rBST, or many more that are used but not often talked about)
GMOs
toxic, persistent pesticides, herbicides, or fungicides
Unless you raise cows or get milk directly from a farmer you know, buying organic is the only way to know you're avoiding the above.
Organic milk has also been proven to have more omega-3 fatty acids than conventional milk, which makes it more heart-healthy.
What about the environmental implications?
In general, a plant-based diet is the most eco-friendly, since it takes so much land and energy to raise animals for food and dairy. But in order for milk alternatives to have a lower carbon footprint, you'd need to buy the ingredients in bulk (in a reusable bag) and make the milk yourself. Packaged nut and grain milks use a lot of energy and water to produce.
Organic dairy products have a lower carbon footprint than conventional, since they're produced without toxic chemicals and since organic pasture absorbs carbon from the atmosphere.
What if I'm vegan or have food allergies?
In these cases, of course you'll want to avoid cow's milk.
I'd recommend organic soy milk, since soy has the most naturally-occuring protein and depending on the brand you buy, may have the least processed. Just make sure to look for soy milk that has "organic soybeans" as the first or second ingredient, and no "soy protein isolate" which is the soy derivative that's been associated with increasing estrogen levels in the body. More on that here.
If you like nut or grain milks and want them to be nutritious, the best option is to make them yourself!
Here's a chart comparing milk with milk alternatives, and a list of organic milk alternatives that do not contain carrageenan.