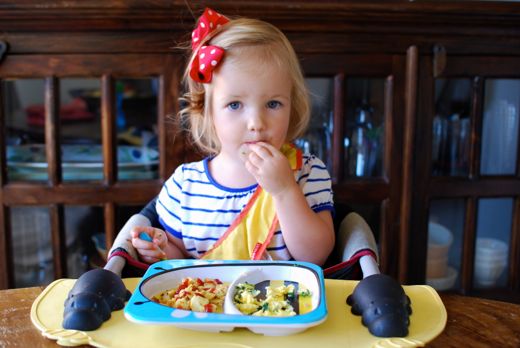 Getting your children to eat vegetables can sometimes feel like trying to summit Mt. Everest. But with persistence, it gets easier. And in the meantime, your little ones won't go hungry or suffer from malnutrition if you're offering them a wide variety of real, wholesome foods.
Whenever I'm in a veggie rut with Lucy, I can almost always count on these strategies to get her to not just eat but truly enjoy healthy and balanced meals.
1. Shred and "melt" veggies into sauces. When you shred carrots, zucchini, mushrooms, or squash into a sauce, the veggies soften and disappear into the dish. This is a great way to add more nutritional value to the recipes your kids already love.
2. Serve kids what you're eating. This may not work initially if you've always made a separate "kid meal," but once you start the new habit, over time your kids may develop more of a taste for what the whole family eats. You can even serve what you're eating in a different form: e.g. you're eating fajitas while your kids eat slices of raw bell pepper, chicken, and cheese alongside black beans and guacamole for dipping.
3. Add cheese. Shred yellow zucchini or add pureed squash into macaroni and cheese, add sauteed veggies to a cheese quesadilla, or let kids dip roasted broccoli or cauliflower into a creamy cheese sauce. This long-standing mom tactic almost never fails…and can be used with picky adults too!