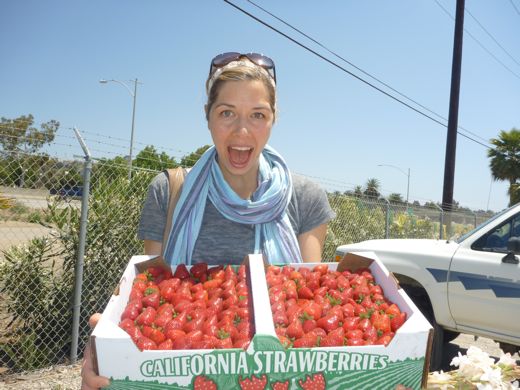 We're nearing the end of strawberry season, so it's time to squeeze the last bit of pleasure out of summer's most popular fruit!  Here are some creative ways to enjoy your last few strawberries:
Strawberries with Brown Sugar and Sour Cream. Rinse and hull your strawberries.  Place 1/4 cup light sour cream in a little bowl, and 2 Tbsp brown sugar in another little bowl.  Dip the tip of a strawberry into the sour cream, then into the brown sugar, then pop into your mouth.
Crostini with Strawberries, Goat Cheese, and Mint. This is one of Eating Made Easy's most popular appetizers.  It's ready in minutes but is beautiful enough to serve to company. See how to make it here.
Creamy Strawberry Popsicles. In a blender, combine about 15 strawberries with 2 cups low-fat vanilla yogurt (some tips to help you choose the best yogurt) and 1 cup milk.  Pour into Popsicle molds, freeze for 4 hours, then serve.
Nutella & Strawberry Sandwich. Spread Nutella (or chocolate peanut butter) onto 2 slices of white sandwich bread.  Place a thick layer of strawberries on one side of the bread then top with other slice to make a sandwich.
Strawberry Pineapple Smoothie. Place 1 cup strawberries, 1 cup pineapple chunks, 1/2 cup vanilla soymilk, and 1/2 cup plain low-fat yogurt in a blender.  Blend with a few ice cubes (however many you need to make it your desired consistency) until smooth and creamy.  See other delicious smoothie recipes here.
Wondering if it's worth splurging on organic strawberries?  Yes! Read why here.