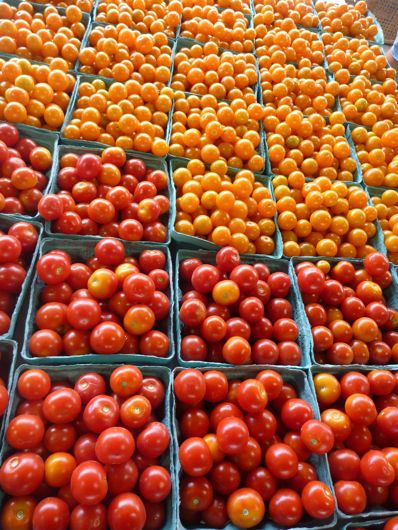 Yesterday we visited the Nashville Farmer's Market, (open all day everyday, all year long!) and were blown away by the looks and taste of all the locally grown produce.  We bought grape tomatoes (above), which were so sweet they tasted like dessert.
Here's my favorite way to eat little tomatoes, plus a few more easy 5 minute recipes using summer produce.
Sauteed Tomatoes
Heat 1 Tbsp olive oil in a large skillet over medium heat.  Add a pint of grape tomatoes to skillet, sprinkle with salt, and let cook until tomatoes begin to brown a little.  Toss or stir tomatoes a bit, then add 1-2 cloves of minced fresh garlic and a handful of chopped basil, cilantro, or mint, plus a little more salt & some pepper.  Serves 2 as a side dish.
Tip: To make this a main dish, let cool for 5 minutes, then pulse tomatoes in a blender for 5 seconds and toss with cooked pasta, grated Parmesan cheese, and more fresh herbs.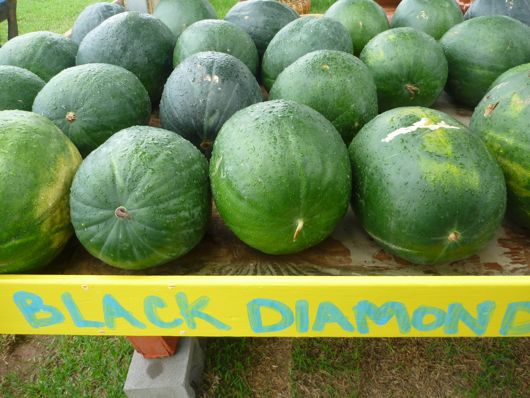 Watermelon Salad
Lay 4 cups of fresh watermelon chunks on a platter or plate.  Sprinkle with crumbled feta cheese (choose feta made from sheep's milk, which comes in a block rather than crumbles and tastes much better), fresh rough-chopped mint leaves, and toasted pine nuts or walnuts.  Drizzle with extra virgin olive oil and a squeeze of lime juice and serve.
Raw Zucchini Sticks with Easy Veggie Dip
Cut zucchini into thin strips (like a carrot stick) and serve with the dip of your choice.  When ripe and in season, raw zucchini is just as delicious as cooked.  If you're skeptical, go for either Zucchini Corn Enchiladas or Roasted Summer Squash.

All these zucchini recipes can be made with crookneck squash (above), with regular zucchini like this: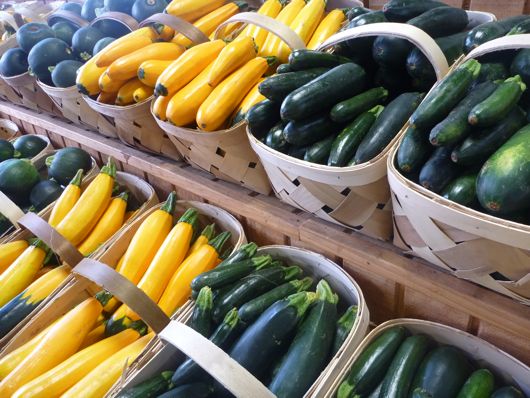 with round zucchini like this: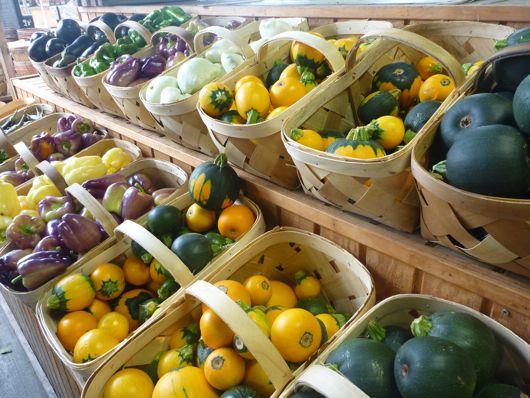 or with summer squash of any color: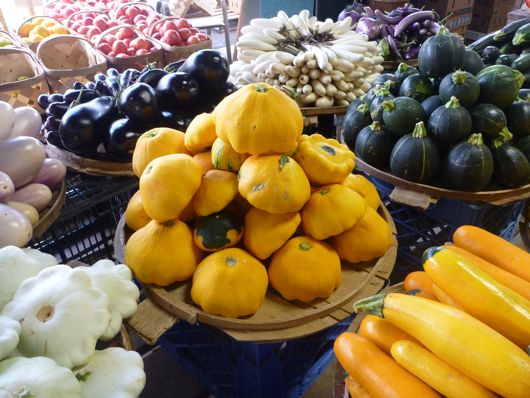 All of these varieties have roughly the same flavor and texture, so use whichever you like.