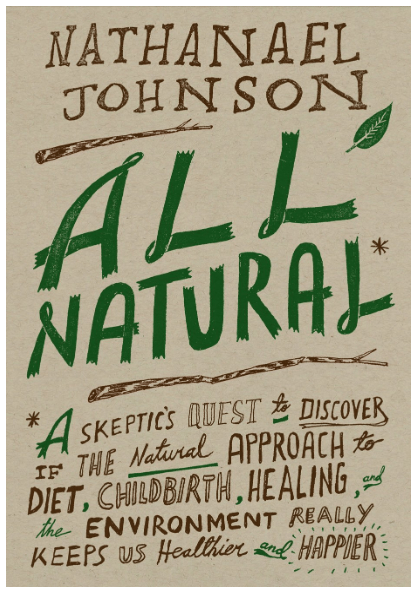 There's no better way to educate yourself on food and nutrition than to read about it. When you're familiar with information written by nutritionists, chefs, journalists, politicians and agency leaders, you can determine your own outlook on food and feel more comfortable making eating decisions for yourself and your family.
Below are some of my own favorite food reads. They've helped me to better understand modern food production, varying perspectives in nutrition science, and are both engaging and entertaining.
1. All Natural: A Skeptic's Quest to Discover if the Natural Approach to Diet, Childbirth, Healthy, and the Environment Really Keeps Us Healthier and Happier, by Nathanael Johnson.
Don't let the long title deter you! I'm almost finished with this book and have found every page fascinating. It's perfect for people (like me) who often feel torn between "natural" and "Western" ways of life when it comes to food and health.
2. Food Rules, by Michael Pollan.
I've mentioned Food Rules before, and I'm sure I will again. This quick read – which can easily be flipped through a little at a time – offers lighthearted, funny, and very practical advice for how to eat in the modern world. Even if you apply just a few of the "rules" to your daily routine, your diet will surely improve.
3. The End of Overeating, by David Kessler.
Ever wonder if the food industry is conspiring to make you love Cheetos and Kettle Corn even more than you thought you could? After reading this book, you'll know exactly why you can't stop reaching back into that bag, but will also get some useful tools that help you change these habits.
4. How to Cook Everything: The Basics, by Mark Bittman.
An essential tool for home cooks and anyone on a tight budget or starting their cooking journey "from scratch." Bittman offers simple, straightforward, crowd-pleasing recipes and instructions that even the most fearful cook can accomplish.
5. Why Calories Count, by Marion Nestle and Malden Nesheim.
This book is a great place to acquire a thorough understanding of nutrition science (presented in an easy-to-understand manner), gain insight into how dietary recommendations are made, and find solid answers to the question of which diet is best.
Any food books you love that I didn't include here? Please share your favorites!