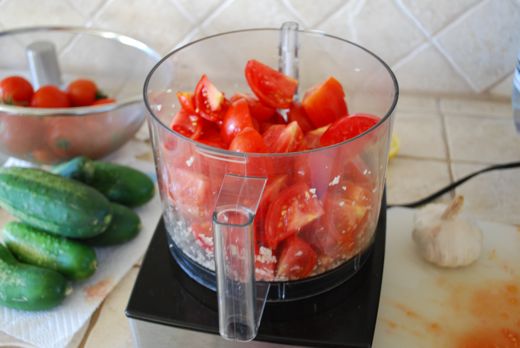 Fresh tomatoes are so abundant during July and August that it's easy to buy (or grow) more than you can eat.  Don't let these precious summer gems go to waste.  All you have to do is puree your overly soft extra tomatoes and you've got a great base for a flavorful meal.  Below are 3 delicious ideas for how to use fresh tomato puree.
First, throw a couple of fresh garlic cloves into a food processor or blender and finely chop.  Then quarter your tomatoes and toss them in too along with a large pinch of salt.
Pulse the food processor or blender until you've got a chunky puree (or a smooth one if you prefer).  Now turn your puree into one of these incredibly fast and easy meals:
Angel Hair with Tomatoes & Basil — Add a large handful of fresh basil leaves and a generous drizzle of extra virgin olive oil to the food processor and pulse a few times.  Toss this with still-hot cooked angel hair pasta and top with Parmesan cheese.
Baked Eggs in Salsa — Add a Chipotle pepper (or a rough chopped jalapeno), a large handful of cilantro, and the juice of one lime to your tomatoes.  Blend for 5 seconds.  Pour some of this salsa into a baking dish, then crack 4-6 eggs right into the salsa.  Bake at 350 until eggs are cooked through.  Serve with tortillas or over rice.
Chicken Enchiladas — Follow the instructions for Baked Eggs in Salsa, but instead of cracking eggs into the baking dish, add corn tortillas that have been filled with cooked chicken breast (like shredded rotisserie chicken) and a pinch of shredded cheddar cheese.  Place filled tortillas seam-side down then top with more salsa and a little more shredded cheese and bake until bubbly.
Gazpacho — Empty your tomato puree into a large bowl.  Next, add rough chopped cucumbers to the food processor and pulse until they're very finely chopped, then add to the bowl of tomatoes.  Repeat this with bell peppers, red onions, and either parsley or basil leaves, then stir all the veggies together with a generous pinch of chili powder, the juice of a lemon, and a drizzle of balsamic vinegar.  Chill and serve as a cold soup.
Veggie Soup — Follow the instructions for the gazpacho, but at the end, heat the soup over low heat until hot.  Serve with a dollop of yogurt or some goat cheese crumbles and a piece of toasted bread.