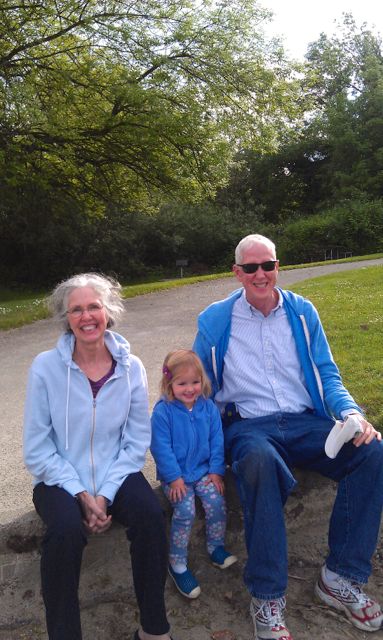 Despite having formal nutrition training, some of my best nutritional habits come from the wisdom of my parents.
Although not nutrition experts, my parents wanted my brother and I to eat healthy, have a healthy relationship with food and listen to our bodies. With just a few simple family rules, they gave me a set of useful tools that have helped to guide me through a lifetime of healthy eating.
Here are six of the nutritional tidbits I couldn't live without:
1. The 20-Minute Rule.  It can take up to 20 minutes after eating for your brain to recognize that you're full – especially if you started out really hungry. When I was little, I would sometimes ask for seconds right after eating a plate full of food. My dad would say, "I'll set the timer for 20 minutes, and when it goes off you can come back and have seconds of whatever you want."  My brother and I would run off and play, and when 20 minutes was up we were rarely still hungry. Even waiting a mere five minutes before you refill your plate may be enough to realize you're satisfied.
2. You can either have a sweetened drink OR dessert.  When we'd eat at a restaurant, we could order either a sweetened beverage (juice, lemonade, soda, etc.) or have dessert, but never both.  When we would complain and ask why, we'd hear this: "because sweet beverages ARE dessert." That couldn't be more true. (And I apply the same rule when it comes to cocktails).
3. No need to finish everything on your plate. The idea that you have to eat beyond your hunger so you don't "waste" food is very outdated, especially given obesity rates today. Finishing the food on your plate when you're already full isn't helping anyone who suffers from hunger, and it gets you in the habit of ignoring body signals. Better to teach your kids – and yourself – to eat when hungry & stop when full.
4. Choose one treat per day.  We were allowed just one treat each day, so we had to pick our indulgence carefully. This trained me to save up my discretionary calories for the things I really love (ice cream), rather than waste them on things I feel only so-so about (muffins).
5. Buy low sugar cereals.  When we'd beg for sugary cereals, my mom showed us how to read a Nutrition Facts Label and said we could pick out any cereal that had 6 grams of sugar or less.  We'd spend forever in the cereal aisle inspecting the boxes…and end up with only the healthier options.  Here's a guide for picking out healthy cereal.
6. Healthy people eat "brown bread."  White refined carbohydrates pack tons of calories and almost no nutrients. "Brown" products on the other hand are generally whole-grain, and their fiber is heart-healthy and keeps you feeling satisfied. This is true for cereals and cooked grains too, not just bread. Here's how to tell if a product is truly whole grain.