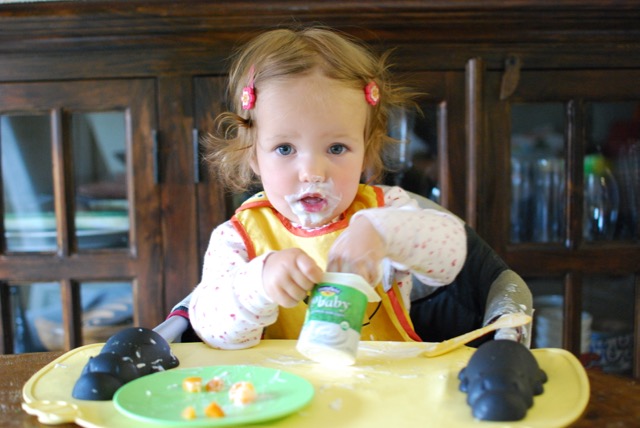 I believe treats and indulgence are important parts of a healthy lifestyle. They bring us joy, connect us to family and cultural traditions, and can help us learn about our body's signals and feelings of satisfaction.
So rather than eliminate or heavily restrict sweet treats for my kids, I like to limit the added sugar in their diets via the everyday foods I buy and offer. This can be challenging, since many prepared foods that aren't viewed as "treats" still have added sugar.
Below are six of my recommendations for reducing sugar intake without eliminating treats. If you're able to implement some or all of these, you'll feel better about letting your kids indulge on holidays, at birthday parties, and at times when you all want to enjoy sweets together.
Hope these help and let me know if you have any questions!
Buy plain yogurt. If you want kid-sized yogurts, Stonyfield YoBaby (not just for babies) comes in Simply Plain, and Lifeway offers their ProBugs Kefir pouches in Pretty Plain. Neither of these have added sugar. I usually buy organic whole milk yogurt in quarts then serve in kid bowls (or little containers if we're on-the-go) because it's more cost-effective.
Look for sauces and condiments with minimal sugar. Ketchup, BBQ sauce, marinara sauce, teriyaki sauce, salad dressing, etc. can all contain significant amounts of sweetener. Read the ingredients list and avoid products who's first few ingredients are evaporated cane juice, corn or brown rice syrup, juice concentrate, or any other sweetener. Beware of products labeled "lower sugar" or "sugar-free" – as these may contain artificial sweeteners.
Offer water to drink. Kids don't need anything other than water. The occasional juice box at a birthday party or on a super hot day won't harm them, but juice should be viewed as an indulgence – one that takes the place of other sweet treats. Milk is OK too in moderation (too much milk reduces appetite for other nutritious foods, especially when served before or at mealtime).
Choose low sugar cereals. My rule of thumb is no cereal with more than 6g sugar per serving, and most of the time what we buy is less than this. Lately we are loving Back to the Roots cereals (only 2-3 ingredients + minimal sugar) but also like Erewhon and in the conventional aisle, Cheerios or Kix.
Limit packaged snacks. Granola bars, animal crackers, snack mixes, flavored popcorn and many other packaged snacks tend to be pretty sweet (kids granola bars are the worst!). Skip these – or serve them as an occasional treat – and either make your own unsweetened/lightly sweetened versions or opt for whole food snacks like fruits, veggies, nuts, cheese, edamame, etc.
Offer plenty of healthy fats. Even though my kids are over two years old – the age when our pediatrician recommended switching to skim milk products – I still buy whole milk dairy (always organic – see why here). We also eat nuts, nut butter, avocados, cheese, coconut. I believe that this fat provides beneficial nutrients and helps keep us satisfied so we don't crave as much sugar.
I'd love to hear any tips you have for keeping your own or your kids' diets lower in sugar, too!