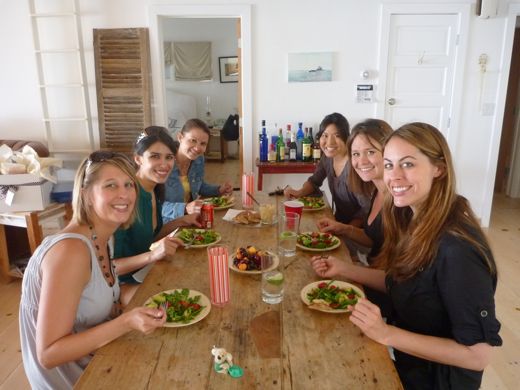 Not only does meal planning help save you time and money, but it also prevents some of the last-minute eating out that's not so good for our health or waistlines.  You may think you don't have the time or patience for meal planning, but when you get into the habit, you'll be so glad you put in the effort.  Here are some basics to get you started:
Make the effort.  Meals don't plan themselves for you, so you have to make planning a priority.  Decide you're going to do it, then set aside a specific time each week to count the number of nights you'll be home, select meals, make a shopping list, and do the shopping.  Stick to this same time each week.  You'll soon be in the routine and the whole process will seem like second nature.
Pick your proteins. When planning meals, pick 2-3 proteins that you'll use as the base of your meals for the coming week, like a rotisserie chicken, pork tenderloin, and black beans, for example.  Think about how you can use each protein at least twice, then fill in the rest of your shopping list with the veggies, grain products, etc that you need to complete your meals.  With every ingredient you write down, think about how you're going to use it more than once.
Keep a running shopping list. If you have a generic list on hand that includes things you frequently buy (milk, eggs, bread, etc), use that as your base, then add to it when you're meal planning.  This way you won't have to start from scratch each week, which will make planning less overwhelming and wasting food less likely.  This also encourages you to "take inventory" of pantry and fridge items, so you know what you already have and won't over-buy.
Be somewhat flexible. Inevitably, there will be items on your list that are overpriced, out of season, or out of stock.  Rather than scratch a whole planned meal, make adjustments.  For example, if you've planned chicken tacos with your rotisserie chicken, but the avocados are hard and the tomatoes are yellow, look for pre-made guacamole and either canned tomatoes or a chunky salsa to replace those two items.  If you've planned an Asian pork tenderloin with asparagus and snap peas, but the green beans are on sale, cross the snap peas off your list and go with the green beans.  Be confident that your meals will still turn out great!
Cook more perishable foods first.  Salad and fish should be made early in the week, whereas soups, baked dishes, and omelets with leftover veggies can come later.  When you're making your meal plan, add a mixture of fresh and frozen produce to your shopping list.  Use the fresh stuff first, then when you run out, head for the frozen veggies.
Keep track of what you make. After a month or so of meal planning, you'll have at least 20 meals under your belt, some of which will be family favorites.  Keep a binder with recipes you've made, plus meal plans and shopping lists from weeks everyone liked, so you don't have to reinvent the wheel every single week.  Before long you'll have a whole pile of ideas and tools to make meal planning a cinch.
Start slowly. If you've never been much of a cook, don't look to Julia Child's cookbook for your first week of recipes!  Start with simple meals, like salad with rotisserie chicken, bean and cheese quesadillas, and veggie omelets with toast.  Once you master some staple meals, you'll feel more confident about planning and cooking, and you can start trying some new recipes.
Not sure where to get started?  Check back here tomorrow, where I will have posted some of my favorite cookbooks and websites for beginner cooks without much time!