Gaining weight while traveling is easy to do. Especially if you're on a foodie trip where the meals and snacks never seem to stop – like I just was.
But it is possible to stick to at least some of your healthy habits, if you strategize and leave home armed with a plan.
Here's how I did it on my most recent trip to Austin (a food-lover's heaven).
1. Bring a healthy meal for the plane.
Relying on the free soda & snacks or airport food for sustenance makes it hard to start your trip off on the right track. Bring fresh fruit and/or veggies, since these are the hardest to find, then supplement those with a sandwich or some healthy-ish snacks like these.
[Side note: My flight was an official "Party Plane" for TV stars going to the ATX Television Festival so our peanuts & pretzels were delivered by celebs
and we had a live mid-flight performance by Teddy Geiger, who also happened to by my seat mate. So fun!]
2. Opt for lighter fare.
I'll admit, this isn't always appealing so it can be hard to do. But you'll love how you feel after choosing a light meal or snack over a heavy one.
Example: I created these sweet and savory parfaits with Stonyfield Greek yogurt which we served during an afternoon break. As good as the chocolate peanut butter graham (!!) parfait looked, I went with the cucumber mint so I could save room for another indulgence later in the day.
3. Keep portion sizes in check.
Temptation and delightful food will likely be everywhere you turn. You can either exercise extreme will power (which most people – including myself – find impossible) or have a small serving of the foods you just can't resist.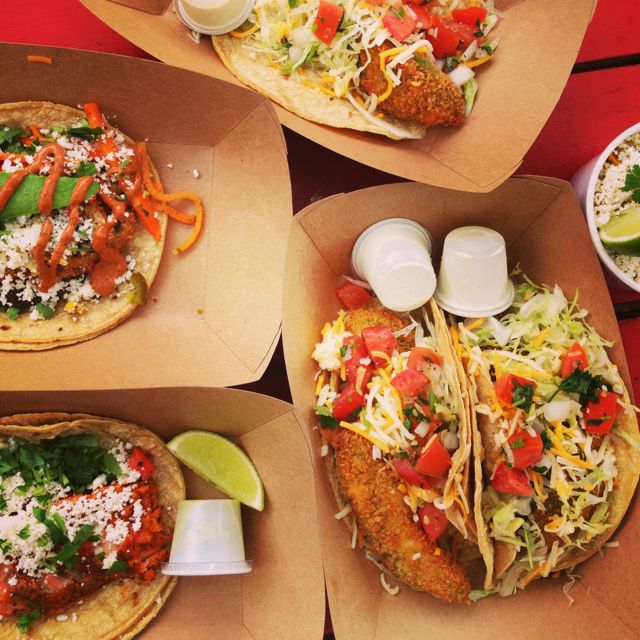 4. Remember your vegetables!
Keep a mental – or written/smartphone – checklist of how many vegetables and fruits you're getting each day. Even with special effort, you probably won't eat as many veggies as you would at home, but simply being aware of your F&V intake might help increase it.
5. Choose your meat wisely.
Restaurant meals tend to be heavy on the meat, butter, cheese, etc. Limit your meat-based dishes to one per day if possible. This will help limit your rich food intake and will by default encourage more vegetable consumption. Think about what kind of meat you really love and save room for it.
6. Be active.
Find something fun the locals do for exercise and do it! Or just walk around a lot. You'll see the sights from a new perspective and feel like you've really "earned" your next meal.
7. Avoid all-or-nothing thinking.
If you really blow it, just forgive yourself and move on. Do everything in your power to avoid the "I've already messed up so I'm just going to eat whatever I want then diet when I get home" mentality, because it doesn't work. You have the power to get back on track at the very next meal or snack, which will help you feel like you're in control, and that feels GOOD. Everyone blows it. You're normal! Just get back to more conscious eating at the next opportunity.
Any tips you follow to stay healthy while away from home? Feel free to share!