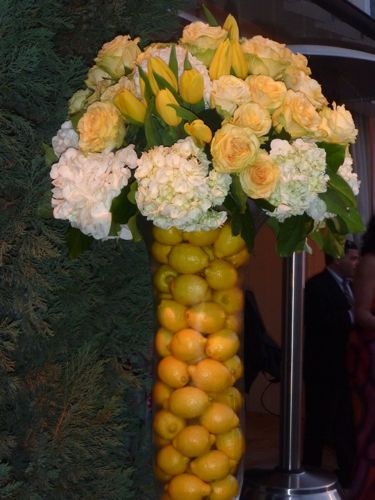 Last night we went to our first wedding of the season.  It was stunningly beautiful, but with a casual atmosphere and simple touches that left guests feeling comfortable and at home.  I loved the lemon theme!
Especially the place cards, which were not only cool but multi-purpose (squeeze the lemon on your meal without worrying about seeds dropping on your food)
Dinner was Southern comfort food, served family style.
What a unique and delicious idea!  It came to life perfectly.  Some of the highlights were:
And the smoked mac 'n cheese = such a good idea.
Being a freak for greens, I loved the crispy sauteed kale.
And Tyler all-but-inhaled the fried chicken and shrimp boil….
but I was saving room for what I knew was going to be the best wedding dessert ever:
Ice cream sandwiches on cookies (ARE YOU KIDDING ME?!) provided by Coolhaus, a chic & updated version of an ice cream truck (follow them on Twitter to see where in LA they are at any given moment).
Tyler very kindly brought us two kinds to try: Mexican chocolate ice cream on a chocolate chip cookie, and "dirty mint" –made with fresh mint leaves–on a snickerdoodle.  I ate a little more than my share of the mint one:
But wow was it worth it.  And Tyler forgave me.  Only because there were plenty more available.
Overall, I'd say it was among the best wedding food I've ever eaten.  We had such a great time!