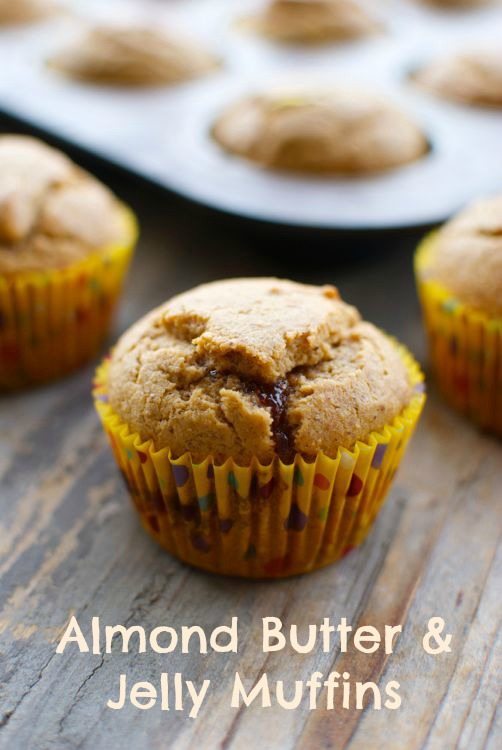 I've been on an almond butter kick lately. On toast, in smoothies & cookies, and of course straight from the jar 😉
But these almond butter & jelly muffins take the cake.
What rules about these muffins is they taste so almondy.
They're healthy enough to eat for breakfast, yet delicious enough to eat for dessert. And if you've got leftover cranberry sauce – you can dollop that into the middle of the muffins in place of the jelly. I made these with both cranberry sauce and jelly and both were superb.
Any almond butter will probably do in this recipe, but I'm partial to Justin's, since it's never bitter and always the perfect consistency.
Almond Butter and Jelly Muffins
A delicious way to enjoy everyone's favorite duo: nut butter & jelly!
Ingredients
½ cup Justin's classic almond butter
¼ cup canola (or other flavorless) oil
½ cup brown sugar
2 tsp vanilla extract
1 egg
¾ cup almond milk
¾ cup whole wheat flour
¾ cup all-purpose flour
1 Tbsp baking powder
½ tsp salt
½ cup jelly or cranberry sauce
Instructions
Preheat oven to 375. Line a muffin tin with muffin papers, or grease well.
Mix all wet ingredients - except jelly - together in a mixing bowl.
In a separate bowl, combine dry ingredients.
Add dry ingredients to wet and stir with a spatula or whisk until just-combined.
Pour a little batter into each muffin cup (about 2 Tbsp), then place a dollop of jelly or cranberry sauce on top of the batter.
Divide the remaining batter among the 12 muffin cups to cover the jelly.
Bake for 17-20 minutes or until cooked through.
Let cool at least 10 minutes before serving.
Notes
If you're using a salty almond butter, reduce or omit the salt in this recipe. I used Justin's almond butter which is only mildly salty.
Happy baking!