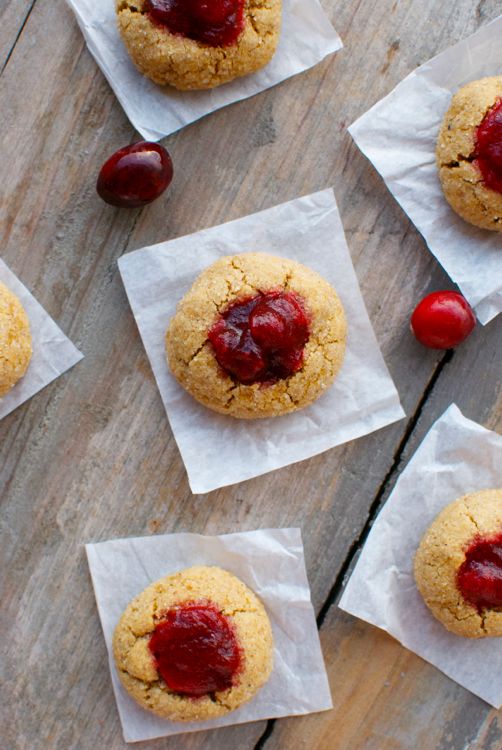 At my house, the holiday season can't begin until there's a platter of thumbprint cookies on the table.
Normally I make shortbread thumbprints rolled in chopped walnuts, or peanut butter & jelly thumbprints.
This year? Almond Butter Thumbprints!
These cookies are so nutty and so delicious. And you can fill them with whatever jelly you love most. After Thanksgiving we even filled them with leftover cranberry sauce! (which I reduced by heating for a few minutes on the stove).
If you like cookies, and you like nut butter, you're going to love these. Make extra!
Almond Butter and Jelly Thumbprint Cookies
If you love thumbprint cookies, and love nut butter with jelly, you're going to love these cookies!
Ingredients
1¼ cups whole wheat pastry flour (or all-purpose flour)
½ teaspoon baking powder
½ teaspoon baking soda
½ teaspoon salt
¾ cup Justin's Almond Butter
1 stick unsalted butter, softened
⅔ cup packed light-brown sugar
1 large egg
1½ teaspoons pure vanilla extract
¼ cup granulated sugar for rolling
½ cup jam of choice (or leftover cranberry sauce!)
Instructions
Preheat oven to 350 degrees.
Gently combine flour, baking powder, baking soda and salt.
Beat butter and almond butter with a mixer on medium speed until smooth. Add brown sugar, and beat until fluffy. Add egg and vanilla extract, and beat until incorporated, scraping down sides once. Reduce mixer speed to low and add dry ingredients. Mix until just combined.
Roll small spoonfuls of dough (about 1 Tbsp) into balls, then roll each ball in white sugar.
Place balls 2 inches apart on a parchment-lined baking sheet and bake for 10 minutes.
Remove cookies from oven, press down in the middle of each cookie with the handle end of a wooden spoon or a teaspoon, then return to the oven for another 5 minutes.
Cool completely on a cooling rack.
Place jam in a bowl and stir until smooth. If jam is not at room temperature, microwave for ~20 seconds to loosen it, then spoon a small amount of jam in the center of each cookie.
Notes
These cookies save really well in the refrigerator - up to two weeks! Simply remove from the fridge several ours before serving.