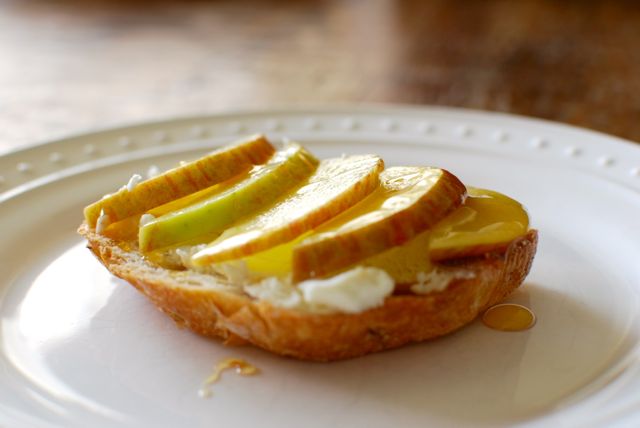 Sometimes I like to use up nearly everything in the fridge before going to the store. Not only is it a great way to reduce food waste, but it also leads to new food combinations, some of which become our family's favorites. This is how the apple and goat cheese sandwich came to be.
Apple and Goat Cheese Sandwich on Rosemary Bread
Ingredients
2 slices bread - I used rosemary bread
goat cheese
1 apple sliced
drizzle of honey
Instructions
Toast some rosemary bread (or any bread).
Spread on soft goat cheese - about 2 tablespoons per slice, more if you like.
Layer with apple slices, then drizzle with honey.
You could easily make this on baguette slices for an appetizer, or add some fresh herbs or greens to give it more bulk and nutritional value. It would also be good with ricotta cheese, or with other seasonal fruits like strawberries, peaches, plums, or apricots (which are just around the corner!).
Simple ingredients come together here in a delicious, almost dessert-like open-faced sandwich. What simple ingredients do you love combining?