Light, fluffy and slightly sweet – these apple crumb muffins are perfect for the holidays.
Thanks to a steady flow of cookies, toffee, truffles and bundt cake into my workplace over the last three weeks, I'm currently suffering from sweets overload. I can't wait to get back to my regular eating habits, which I know won't happen until these treats start disappearing. Because seriously, who has the will power to say no?
So on Christmas morning, instead of eating sugar cookies along with my coffee (like I often do on this particular holiday), I'm going to make Apple Crumb Muffins.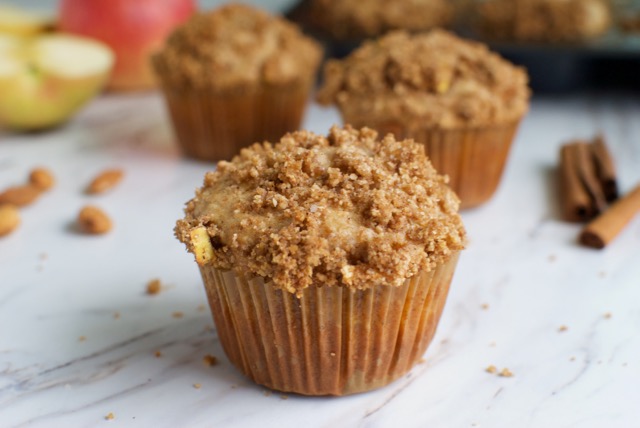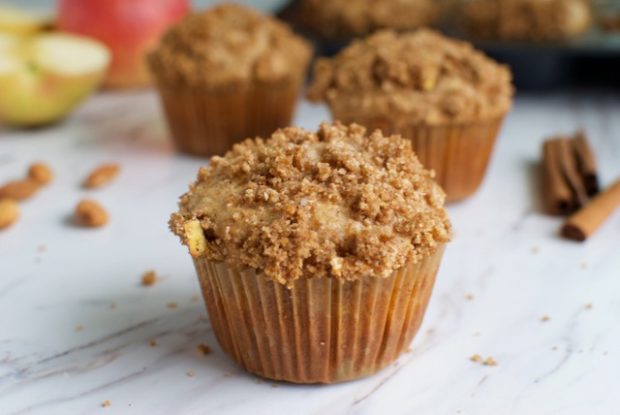 Unlike many apple crumb muffin recipes, this one yields muffins that are just the right amount of sweet, and thus truly appropriate for breakfast rather than dessert. They are light and fluffy thanks to the addition of Bob's Red Mill all-purpose flour (because Christmas is no time for dense, grainy lumps that barely qualify as muffins), and are filled with the warm flavors of fall and winter.
If you have any luck not eating the crumb topping off all the muffins before you eat the muffins themselves, please share your strategy 😉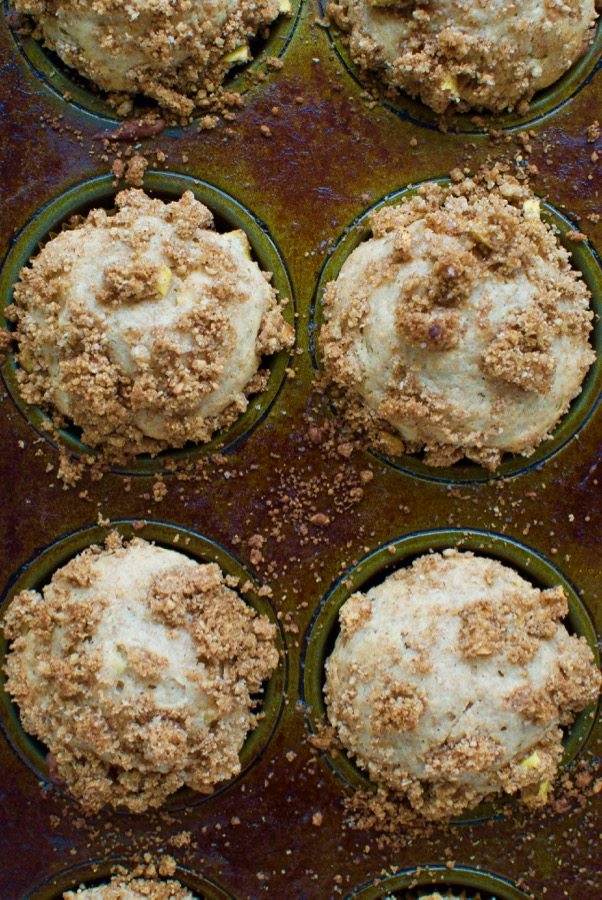 Whatever you're eating or doing during this holiday week, I hope you have a most wonderful time!
Apple Crumb Muffins
Not too sweet and part whole grain, these muffins are perfect for any occasion where you want something warm and comforting but still light and healthy.
Ingredients
1 cup all-purpose flour (I use Bob's Red Mill)
1 cup whole wheat pastry flour (or white whole wheat flour)
¼ cup almond flour
1 tsp baking powder
½ tsp baking soda
1 tsp cinnamon
¼ tsp salt
¼ cup canola or other oil (if using coconut, use melted)
½ cup light or dark brown sugar
2 eggs
1 cup plain whole milk yogurt (not Greek)
2 cups finely chopped apples (1½ cups go in the batter, remaining ½ cup goes in the topping)
For the topping:
2 Tbsp almond flour
1 Tbsp flour (all-purpose or whole wheat)
2 Tbsp brown sugar
½ tsp cinnamon
1 Tbsp butter
Remaining ½ cup chopped apples
Instructions
Preheat oven to 400 degrees and line a muffin pan with paper liners. Spray the liners lightly with oil or cooking spray.
In a medium bowl, gently combine flours, baking powder, baking soda, salt and cinnamon.
In another large mixing bowl, whisk together the oil, sugar, eggs, yogurt.
Stir the wet ingredients into the dry, half at a time, then fold 1½ cups of the chopped apples into the muffin batter, being careful not to over-mix.
Using a scoop or ⅓ cup, fill each muffin cup ¾ way up with batter.
Put the topping ingredients in a separate small bowl and use a fork to make a coarse crumb mixture. Sprinkle the topping evenly over the muffins, then place in the oven and bake for 18-20 minutes or until a toothpick comes out clean.
Let muffins cool for 5 minutes in the pan then 15 minutes on a cooling rack.
This post is sponsored by Bob's Red Mill. As always, thoughts and opinions are 100% my own. Thank you for supporting my blog and the brands I believe contribute to a safe, just, and healthy food system.