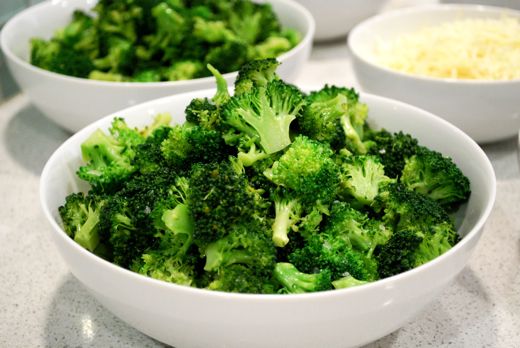 Seems like every few weeks, someone is declaring a new "superfood" that you absolutely MUST eat in order to lose weight, avoid cancer, or live to age 100.  Unfortunately, it's not that easy.
Here's the truth: there is no such thing as a superfood.
The term is used to catch peoples' attention and boost sales of products or publications, but it's not a word with proven scientific meaning.
Why?  Because no single food – or pill for that matter – is super enough to cure your lifestyle-related health problems.  What will promote good long-term health is a diet that includes a wide variety of nutritious, whole, unprocessed foods – whether they've been labeled as "super" or not.
But don't put down that broccoli, sweet potato, or blueberry just yet.  Because in reality, most of us need to eat more of the boldly colored vegetables and fruits that often appear on lists of superfoods.  We just need to remember that it's the variety that makes a diet super, and that food preparation techniques, portion sizes, and our activity level also count for a lot.
"Superfoods" That Really Are Super:
Vegetables and Fruits.  You just can't go wrong with these.  Eat a wide variety.
Whole grains.  Real, intact whole grains, that is.  Try venturing outside of wheat, rice, and oats.
Legumes.  Beans and lentils are super nutritious, especially when you eat them in place of meat.
Plain yogurt or kefir.  The live active cultures in fermented foods are good for your gut.
Fatty fish.  Two servings of salmon or other fatty fish per week is a good goal.
Nuts and seeds.  Make sure to watch the portion size with these, since they're high in calories and fat.
Be Wary of "Superfoods" that…
Give you an excuse to eat junk food.  (Downing a chocolate bar because of the "antioxidants" = not super).
Claim to cure a disease or condition.
Claim that a particular brand is better than another.
Come in a bottle or package – e.g. juices, supplements, fortified snacks or bars, etc.
Cost a lot.  You don't need anything fancy or expensive to have a healthy diet.