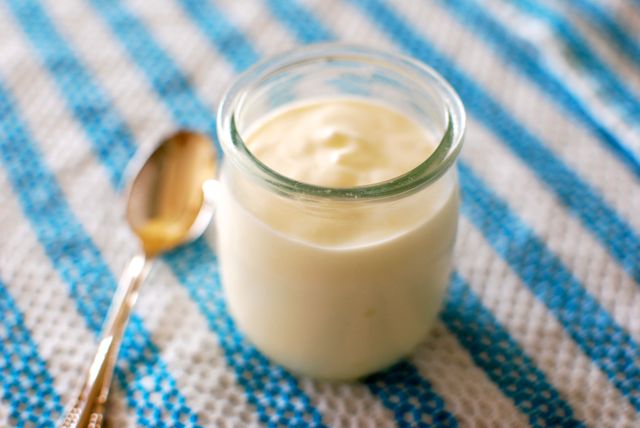 Unless you're buying organic yogurt, the answer is probably yes.
Nearly 50% of the GMO corn and 70% of the GMO soybeans grown in the U.S. go to livestock and poultry feed. Cows are also often fed alfalfa, cottonseed and sugar beets that might also be genetically modified.
Even yogurt brands like Chobani and Fage, who claim to be "real" and "natural," are made from the milk of cows who eat genetically modified feed.
Why is this bad?
While we don't have proof that the GMOs eaten by animals are passed onto us via their milk, there's also no science proving the opposite. It's all a big unknown at this point. If you are concerned about the potential harm of GMOs and want to really know your food, it's best to buy organic until we have a GMO-labeling system in place.
How can I avoid yogurt from GMO-fed cows?
Buy organic. This is currently the ONLY way to avoid GMOs altogether.
Ask your favorite yogurt brands to shift to non-GMO feed for their cows.
Encourage the federal government to label GMO foods by signing the Just Label It petition.
Ask your local grocery store to stock more organic options.
What brands of yogurt come from cows who eat GMOs?
Assume that all non-organic yogurt in the U.S. is from cows who have eaten genetically modified feed. Yes, even Chobani, Fage, Whole Foods 365 yogurt, Trader Joe's yogurt and other brands that claim to be "all natural." (Remember, the term "natural" means nothing legally. It's just a marketing term that can often be misleading).
What brands of yogurt do NOT contain milk from cows fed GMOs?
By definition, organic yogurt cannot be from cows who eat GMO feed. Organic dairy cows graze on pasture for a minimum number of days per year, and when they're not grazing they are fed 100% organic, non-GMO feed. This is all heavily regulated, so look for the USDA Organic seal.
Are there any organic GREEK yogurts available?
Yes. Stonyfield, Wallaby Greek and Straus Family Creamery Greek are the organic options in my area. If you know of other organic Greek yogurt options, please share in the comments below!