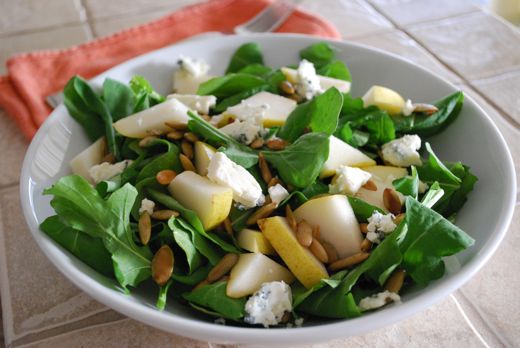 Arugula, along with most other baby greens, is especially flavorful in the springtime.  Whip up a simple salad with just a few ingredients, to really highlight the tastiness of these little greens.  Here's one version I've been loving lately.
Arugula Salad with Pear and Blue Cheese
Ingredients
3 tablespoons Extra Virgin Olive Oil
2 tablespoons Honey
Fresh Lemon Juice, from 1 lemon
1 pinch Kosher salt
1 pinch Ground black pepper
6 cups Arugula
2 whole Anjou or Bartlett Pear, chopped into big pieces
¼ cup Pepitas, toasted and salted
2 ounces Blue Cheese, crumbled
Instructions
In the bottom of a large salad bowl, whisk together lemon juice, olive oil, honey, salt, and pepper.
Put the pear chunks in the salad bowl and toss with the dressing (this prevents pears from turning brown). Add arugula and toss until coated with dressing. Crumble blue cheese around the salad, then sprinkle with pepitas and serve.