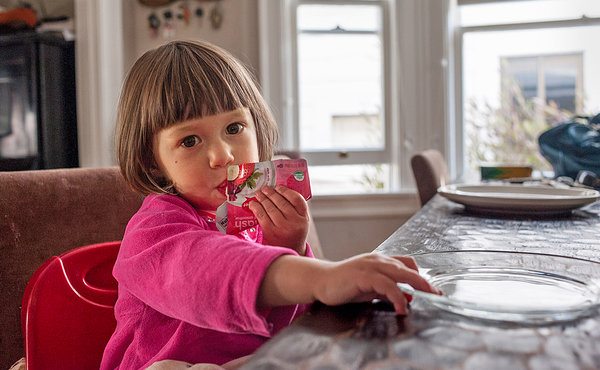 Baby food in squeeze pouches is all the rage.  Young babies, toddlers, and even older children can frequently be seen squeezing these portable purees into their mouths, both at home and on-the-go.
I've been thinking a lot about this trend in the months since Lucy started solid food, and have wondered what kind of long term effects it may be having on little ones' eating habits.  Some of my concerns:
Are modern kids going to know what real food looks, tastes, and feels like?
Why give a baby a pouch of banana puree when you can just give him a banana?
Parents may think they're giving their child vegetables, but pouches are mostly made of fruit (usually applesauce + tiny amounts of other fruit concentrates or powders).  The vegetable component is minimal, if there at all.
Of course, pouches are convenient for traveling or occasional eating-on-the-run.  But I don't believe they're a good replacement for healthy sit-down meals, especially for toddlers and older children who are able to chew and feed themselves a little.  Mealtime for young children is partly about nourishment, but partly about learning what food looks, smells, and feels like.  When a pouch replaces a spread of real food pieces or homemade vegetable mixtures, part of this learning is lost.
Last week, the New York Times featured an article about the squeeze pouch trend.  Lots of interesting points in this article, including: if we parents and/or our children are too busy to sit down for a real meal, then more than just mealtime needs to change.
What do you think about this issue?  How often do you feel comfortable feeding your child from a pouch?
image source: Putting The Squeeze on a Family Ritual