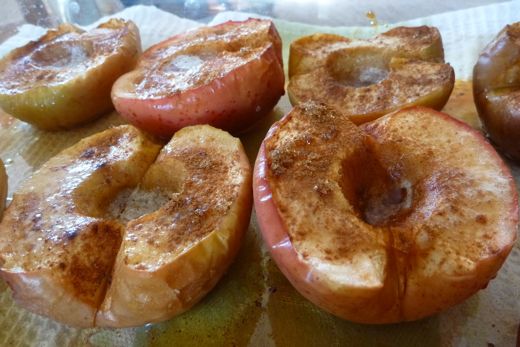 Yet another way to use fall's best apples!  Serve these with a dollop of vanilla ice cream and a drizzle of caramel sauce for dessert, or a big scoop of plain nonfat Greek yogurt with a sprinkle of granola for breakfast.
Baked Apples
Ingredients
4 apples (any kind), cut in half and cored
1 tsp cinnamon
2 Tbsp brown sugar
1 Tbsp butter
pinch of salt
Instructions
Preheat oven to 350. Arrange apple halves face-up in a baking dish. Sprinkle each apple with a little of the cinnamon, sugar, and salt, then place a little cube of the butter in the middle of each one. Bake for about 45 minutes, or until apples are soft and wrinkly. Eat for breakfast, dessert, or a snack.