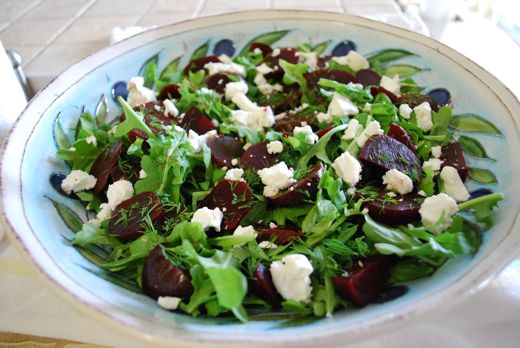 I can't get enough arugula right now.  It's little leaves are spicy and flavorful yet still delicate, so it makes the perfect base for almost any springtime salad.  Here I enjoyed it with sweet beets, tangy feta cheese, fresh dill, and an easy lemon vinaigrette.  Never cooked beets before?  Just cut off the tops (clean and save the leaves to steam or saute for an easy veggie side dish), wrap them tightly in generous-size piece of foil, bake for 45 min to 1 hour at 400 degrees, then let cool until you can easily peel away the skins — then they're ready to go.  Sound too hard?  Trader Joe's has pre-cooked beets in the refrigerated section, so all you have to do is slice and eat.
Beet & Arugula Salad with Feta and Fresh Dill
Ingredients
¼ cup Fresh Dill, frons (leaves) only
6 cups Arugula
3 whole Beets, cooked and peeled
2 ounces Good Feta Cheese
3 tablespoons Extra Virgin Olive Oil
1 tablespoon Honey
¼ cup Fresh Lemon Juice, from 1 lemon
Instructions
Spread arugula over a large platter or place in a large bowl. Cut beets into small wedges, then crumble feta evenly around the salad and sprinkle with the fresh dill.
In a small bowl, mix together the lemon juice, honey, and olive oil. Add a pinch each of salt & pepper, then drizzle over the salad. Toss salad before serving.