Summer weather almost requires indulging in frozen desserts, but this doesn't mean you have to sacrifice your healthy eating routine.  There are plenty of fantastic frozen treats that will satisfy your every craving while fueling you up with some important nutrients like protein and calcium.  Here are my favorite picks for this summer, and below is your chance to WIN ALL OF THESE FOR FREE!
Lifeway Frozen Kefir
The tart and tangy flavor + the probiotic benefits of kefir — but frozen into an ice cream-like consistency!
Oikos Greek Frozen Yogurt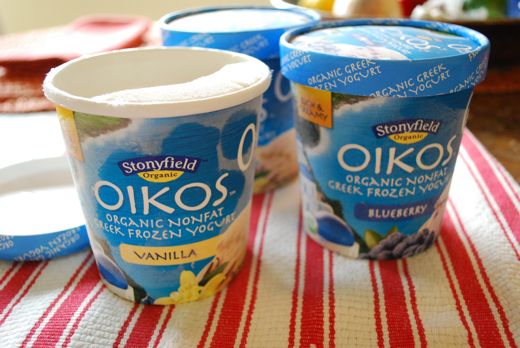 Everything you love about Greek yogurt – satisfying protein, creaminess – but frozen.  And it's organic.  My favorite is Vanilla Bean, but they have some tasty new flavors coming out this summer (Peach-Mango, and Super Fruits) which are tasty too.
Lifeway Greek-Style Fro Yo
The other of my two favorite Greek frozen yogurts, you will love the creaminess and amazing flavors (e.g. their honey flavor – they tested tons of exotic honeys before deciding on the best!) in this line.
Alden's Organic Light Ice Cream
This has long been my favorite ice cream, and starting this summer it comes in a Light version!  All the delicious, organic goodness of their regular flavors but with less fat and calories.
GIVEAWAY ENDED
Leave a comment with your favorite frozen dessert for summer, and you'll be entered to win:
FREE Lifeway Frozen Kefir
FREE Oikos Greek Frozen Yogurt
FREE Stonyfield Organic Ice Cream
FREE Lifeway Greek-Style Fro Yo
2 WINNERS picked on Thursday morning (6/28).  Don't miss your chance to win!!  Good luck!!