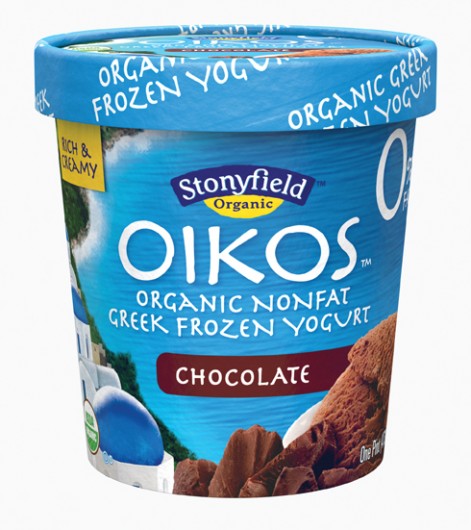 Happy National Frozen Yogurt Day!!  (In case you're wondering, this "holiday" really does exist and it really is today).
I'm a die hard soft-serve fan, but buying frozen yogurt from the grocery store can save money, time, and excess packaging — plus it gives you the opportunity to buy organic.  Not all freezer aisle choices are created equal however.  Here are the best frozen yogurts on the market (in my humble opinion).
1. Stonyfield Oikos Greek Frozen Yogurt.  The only Greek frozen yogurt out there, as far as I know, and it's divine!  My favorite is the vanilla – tons of vanilla bean specks and so creamy, yet still tangy.
2. Julie's Organic Low-fat Frozen Yogurt.  The chocolate flavor is dark, rich, and so flavorful that a little goes a long way.  Their blueberry tastes like real, fresh blueberries (as it should, right?).
3. Lifeway Frozen Kefir.  Ok, so not exactly frozen yogurt, but it tastes a lot like it and offers similar health benefits.  The strawberry flavor takes me back to childhood – our neighborhood health food store had strawberry soft serve that I LOVED, and this stuff tastes almost exactly the same.
4.  Laloo's Goat Milk Frozen Yogurt.  I didn't expect to love goat frozen yogurt, but Laloo's is the real deal.  Their Cherries Tuilerie is so incredible – real pureed cherries with chunks of swiss dark chocolate mixed in.  Wow.
5.  Haagen Dazs Low-Fat Frozen Yogurt.  I've heard that Haagen Dazs uses milk from cows treated with rBGH, so I can't wholeheartedly recommend their products.  But, I love their coffee frozen yogurt, so I really hope they are sourcing their milk, cream, and eggs from sustainable and humanely run farms — because the taste is so tempting!