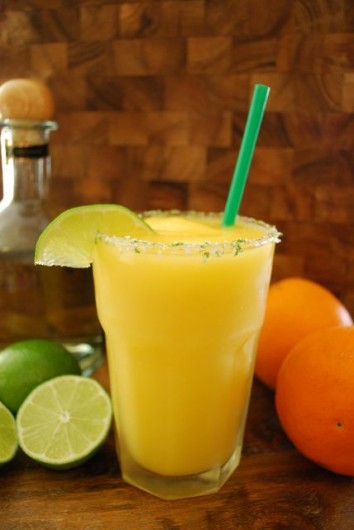 Tomorrow is Cinco de Mayo, a.k.a my favorite holiday of the year.  I love it for the margaritas and Mexican food, and also because it means that summer is right around the corner.  My favorite way to celebrate Cinco de Mayo is with really good margaritas and really good Mexican food.  I prefer to make this stuff at home, since I find the margaritas in restaurants to be too sweet and the food too heavy.  It's always hard to decide what direction to go with the food, but this year I'm going to rely on a couple of my staples: Bon Appetit's Chicken with Tomatillos and Braised Fruit and Crispy Black Bean Tacos.  These dishes are incredible, yet won't weigh you down…even when paired with this amazing mango margarita. Enjoy!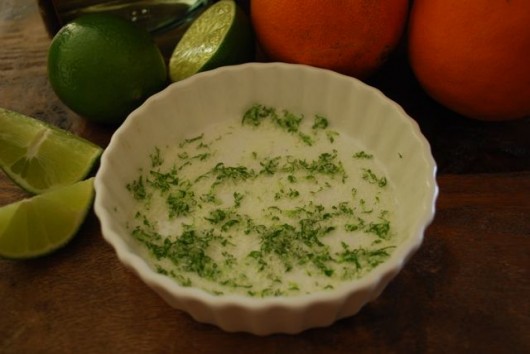 This is what the salt/lime mixture should look like.  (Use any leftover for chicken or fish seasoning, then topped the cooked meat with fresh salsa!)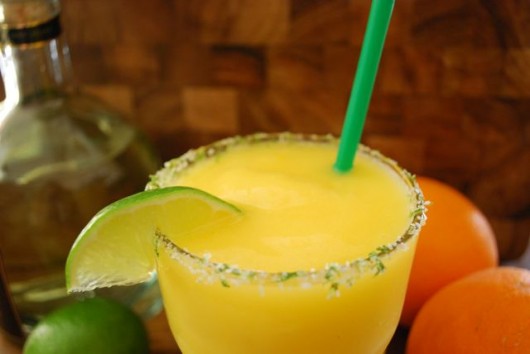 Happy Cinco de Mayo!
Mango Margarita
Ingredients
2 tablespoons Kosher salt
1 tablespoon Lime zest, from 1 lime
2 Lime, juiced
½ cup Orange Juice
2 cups Ice cubes
3 ounces 100% Reposado Tequila
1 tablespoon Limeade concentrate
1 cup Mango, frozen chunks
Instructions
Chill 2 glasses in the freezer for 15 minutes. Meanwhile, combine the salt and lime zest on a small plate. Remove the glasses, rub the rims with a lime wedge to wet, then dip rims into the salt/zest mixture.
Pour all the liquids into a blender and blend briefly to combine. Add the frozen mango chunks and a generous amount of ice cubes and pulse until a thick consistency is reached. Pour mixture into glasses and enjoy!