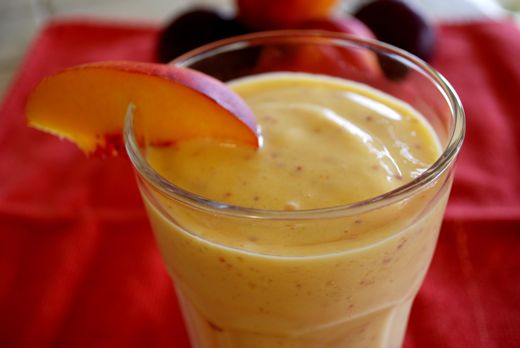 Smoothies are a perfect way to enjoy fruit during winter, because they're best with frozen fruit (in my opinion) and offer variety even when not many fruits are in season.
Today, I had the best smoothie of my life.  The combination was unplanned, but ended up being flavorful, sweet, and exotic-tasting.  I don't think I can make any other combo for the time being…I'm hooked on this one!
Best Smoothie You'll Ever Taste
Ingredients
5 pitted dates
1 cup plain nonfat yogurt
1 cup 1% milk or soymilk
1 cup frozen pitted cherries
1 cup frozen sliced peaches
1 large frozen banana, cut into chunks
½ tsp vanilla extract
Pinch of cinnamon
Instructions
Combine dates, yogurt, and milk in a blender until smooth. Add remaining ingredients and pulse until the mixture is well-combined. This smoothie will be thick and is best eaten with a spoon. If you like a thinner, drinkable smoothie, use a fresh banana and/or thawed fruit. Enjoy!