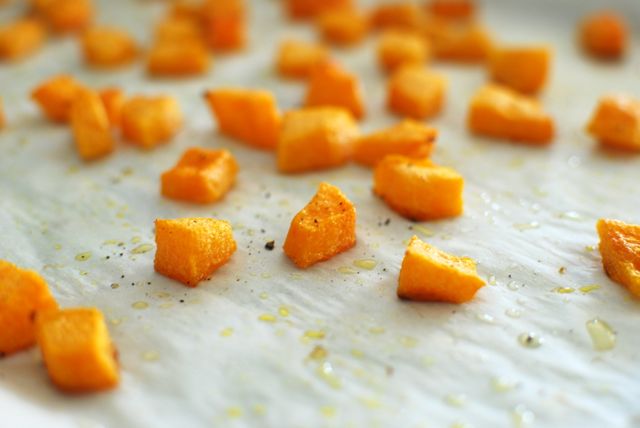 Butternut squash is one of the most delicious things about fall. It's inexpensive, nutritious and SO versatile: you can add it to soup, pasta, mac and cheese, quesadillas, salads, pizza, gratin and even baked goods.
Butternut squash can look a little intimidating because of it's super thick skin, but once you cut it open it's actually super easy to prepare.
My favorite way to eat butternut squash is roasted. Baking at a high temperature brings out the sweetness and gives you those yummy crusty brown edges. Once it's been roasted, you can add it to any of the dishes listed above, or just eat it as-is.
After cutting in half (use a big sharp knife and place the squash on a sturdy surface), scoop out the seeds and slice off all of the skin.
Then just cut into similar sized cubes and place on a baking sheet. Toss with olive oil and sprinkle with salt, then bake at 425 for 15-30 minutes depending on the size of your squash chunks.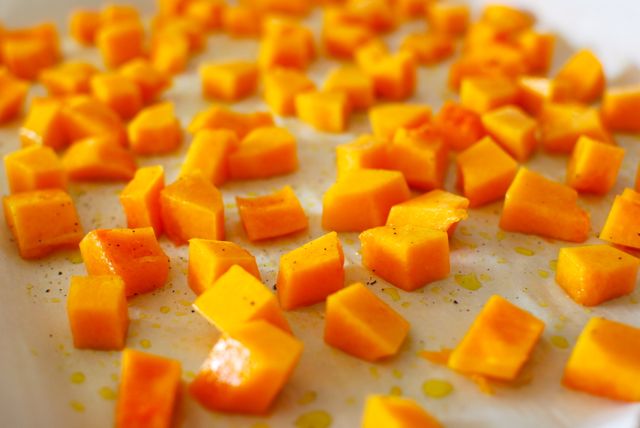 Roasted squash cubes are also a great finger food for older babies and toddlers.