A healthy, hearty, veggie-packed chili that comes together in under and hour and tastes like it cooked all day!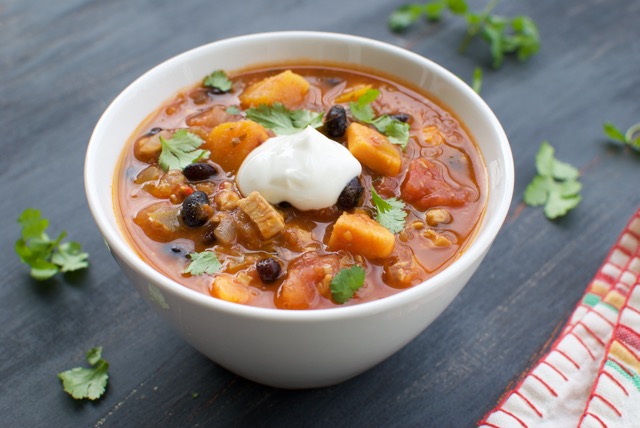 This time of year, my body and mind crave vegetables. Salads are my favorite, but on a chilly winter night nothing beats a warm soup or stew.
One night last week, I opened my fridge with the intention of making bean & cheese burritos for my kids and a salad with chicken for me. But after examining my ingredients: black beans, leftover chicken, squash and some rapidly-fading bell peppers, I realized I could make a soup we'd all enjoy in just a few minutes. Not only would this simplify the dinner hour, but my kids would get some needed veggies they might otherwise not choose to eat. A win-win!
Luckily, every family member loved this chili. (Despite my best intentions this only happens a small percentage of the time). We topped ours with avocado, cilantro and Stonyfield whole milk Greek yogurt. And used tortilla chips for dipping – a must for us on chili night.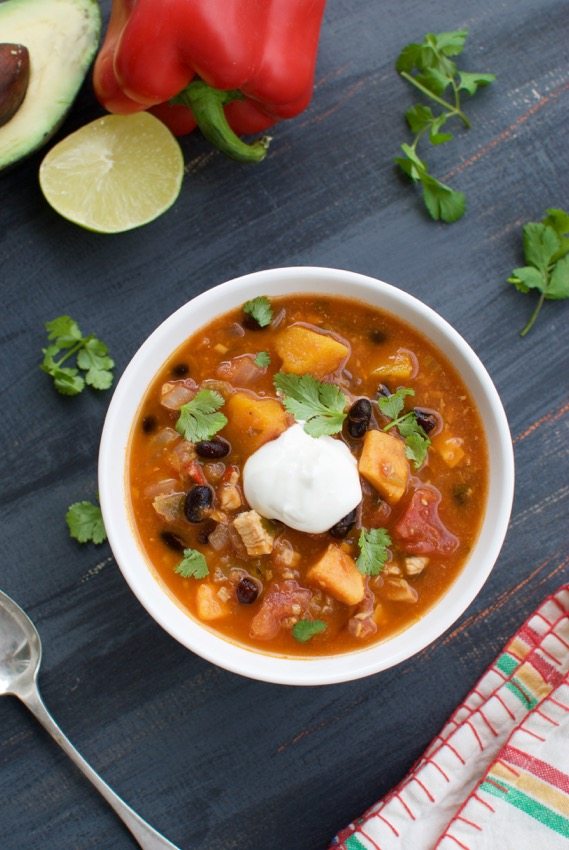 You could easily make this chili vegetarian by leaving the chicken out and adding extra beans or veggies. And if you have cooked sweet potato or another kind of squash, those would make fine substitutes for the butternut, too.
Stay warm, friends!

Black Bean and Chicken Chili with Butternut Squash
A healthy, hearty, veggie-packed soup that comes together in under and hour and tastes like it cooked all day!
Ingredients
1 Tbsp oil
1 small onion, chopped
2 carrots, chopped
1 red, yellow or orange bell pepper, chopped
1 clove garlic (or 1 tsp garlic powder)
½ a Chipotle pepper canned in adobo sauce (or ½ Tbsp chili powder)
1 tsp cumin
1 tsp oregano
2 Tbsp tomato paste (or if you don't have any, ketchup)
1 15-oz can black beans, drained and rinsed
1 15-oz can diced tomatoes
1 10-oz package frozen butternut squash cubes (I used Earthbound Farm)
1-2 cups cooked chicken, diced (amount depends on preference)
Juice of ½ al lime (optional)
Instructions
Heat oil in a medium heavy-bottomed pot, over medium heat.
Add chopped onion and carrots and sauté about 5 minutes or until slightly softened, then add bell pepper and garlic and cook 2-3 more minutes.
Add chipotle pepper, spices and tomato paste. Cook 1 minute.
Add tomatoes, beans, butternut squash cubes and 1 cup water. Reduce heat to medium-low and simmer about 20 minutes or until all veggies are soft. If you like your chili more "brothy" add more water at this point.
Add the chicken to the pot and cook until heated through, 3-5 more minutes. Squeeze in the lime, if using.
Serve with cilantro, Greek yogurt, avocado and/or tortilla chips.