We got home late last night from BlogHer, and I'm wiped! (so I'm fueling myself with a few pieces of Harry & David's Moose Munch taffy which I got at the OC Blogger Bash party…yum).  I learned some great tips, developed more specific goals for my blog, and met some amazing ladies.  But wow, conferences are a whole new ballgame when you bring a baby — it was SO much harder for me to have a personality and be outgoing — I think just because I was tired!  Luckily, Lucy was a champ the whole weekend and made life as easy as it gets these days.  Here are few highlights from San Diego….
The top BlogHer moment for me was when Kath, one of my favorite food bloggers, entertained Lucy with Mark Bittman's book, Food Matters at the Stonyfield yogurt party.  I love Kath's blog because she shares her love of food (and life) in a delectable, yet approachable and un-snobby way.  To have her reading Mark Bittman — a longtime source of inspiration for me in the cooking & food policy world — to my (seemingly interested) baby was so delightful!
As for the swag…many of the BlogHer sponsors weren't a great match for Eating Made Easy, but there were a few products I thought were pretty cool…
Ywater looks every bit as appealing as the artificial, high-calorie drinks that kids are always begging for, but is actually an organic, low-calorie beverage for moms who want an alternative.  It's just 35 calories, and comes in recyclable, reusable packaging.  Nice!
Squeeze-pouches of fruit purees are all the rage in kid food these days.  I liked these Ella's Kitchen ones, because they offer unique veggie-fruit (heavy on the veggie) combinations that appeal to even a picky kid's palate, and they're all organic.  Whether you have a baby whose just started solids, or a toddler or older child, these would be great for on-the-go feeding.
This looks like a regular Gladware container, right?  But wait!….
Clipped onto the underside of the lid is a little container for dressings & dips….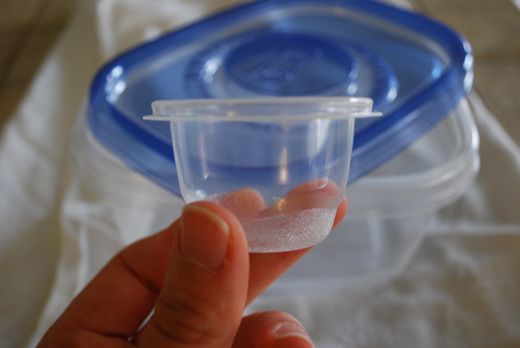 So bringing veggies, fruits, or salads on the run is now even easier.  Just pull off your tiny container of dressing or dip and use it when you're ready!
Thanks, BlogHer, for a information & inspiration-packed conference!