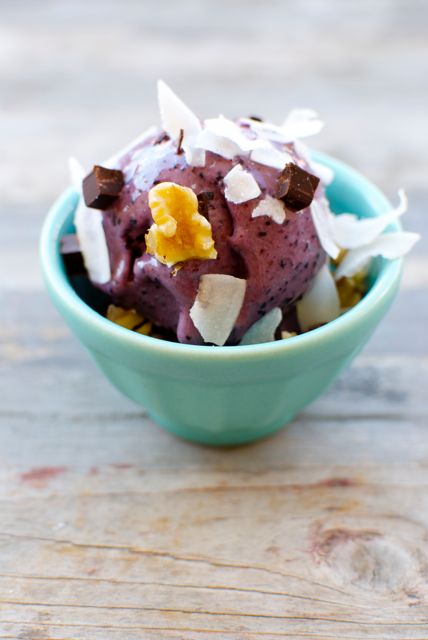 It may be September, but it's still so hot in Los Angeles that my mind won't yet stray from popsicles and ice cream.
Thankfully, I never get board of frozen treats, and believe they have a place on the menu during every season no matter the weather.
So even if you're in a cooler climate and already onto apple and pumpkin recipes, I think you'll want to pause for a second to make this easy soft serve recipe. Call it a #tbt to summertime 🙂
I'm pretty obsessed with making simple soft serve in the food processor (as you may have noticed during July when banana, mango, and three-berry soft serves all appeared on the blog). But what inspired me this time was Stonyfield's new Petite Creme "fresh cheese" – which is similar to Greek yogurt in texture & protein but without the tartness and tang.
After my first bite of Petite Creme, I knew it would combine perfectly with frozen fruit to make the most fabulous soft serve. And it did.
Next I think I'll try mixing Vanilla Bean Petite Creme with frozen pumpkin puree and cinnamon for a pumpkin pie-like treat. Stay tuned!
Blueberry Banana Frozen Yogurt
A sweet, simple dessert with only 3 healthy ingredients!
Ingredients
1 container Stonyfield Petite Creme, blueberry flavor
2 frozen bananas, cut into chunks
2 cups frozen blueberries
Coconut flakes, chocolate chunks, and nuts for topping (optional)
Instructions
Whirl together the Petite Creme, bananas and blueberries in a food processor until a thick, smooth mixture is formed.
Serve immediately with toppings, or freeze for 30-60 minutes if you prefer a firmer soft serve.
This post is in partnership with Stonyfield, for whom I am a YoGetter Team Captain. All thoughts are my own. Thank you for reading and supporting my blog!