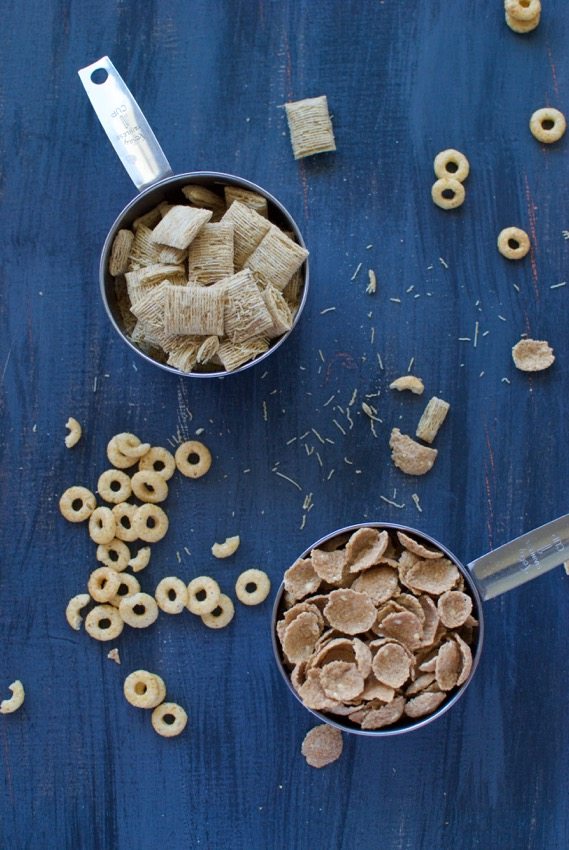 How many times have you opened up a box of cereal only to find there's just a handful of semi-stale crumbs lingering at the bottom of the bag? If your house is anything like mine, this happens a lot!
But I've got good news: You can turn this cereal into cake. And not just any cake, but a relatively healthy breakfast cake that is sure to be gobbled up by the very people who rejected the cereal crumbs in the first place.
The best part about Cereal Cake is you can make it with nearly any cereal you have. Denser, more fiber-rich cereals will give you a slightly denser cake than light rice-based cereals, but either way the cake is delicious. I've tried this recipe now with several different combinations and have never been disappointed with the results.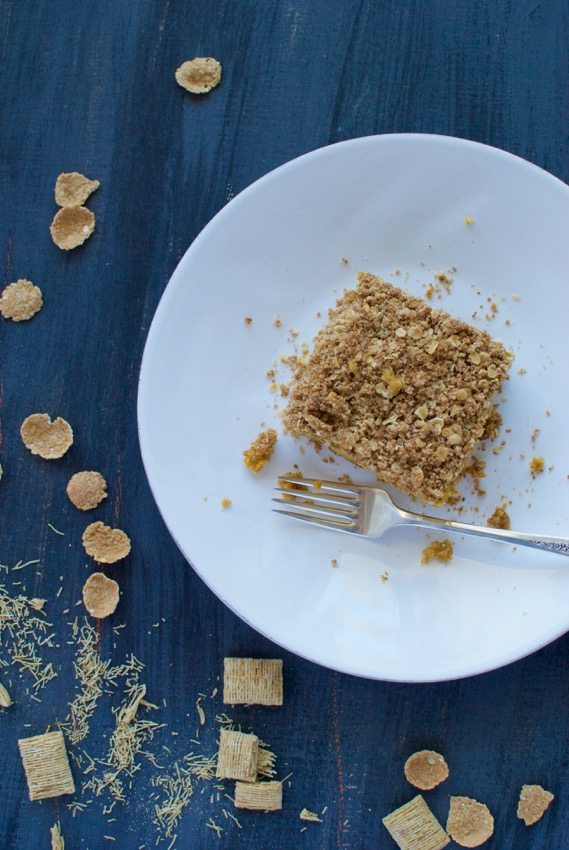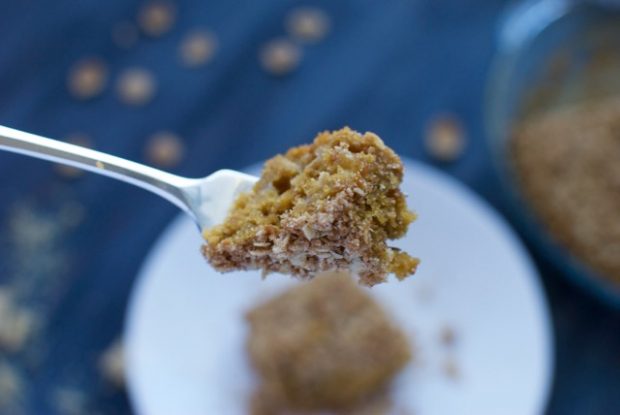 If you have any questions about the recipe below, or are wondering whether the cereals / other ingredients you have will work, feel free to leave a comment before you get baking and we can brainstorm together!

Bottom-of-the-Box Cereal Cake
Breathe new life into those soon-to-be-stale cereal crumbs that always seem to linger at the bottom of the bag. This breakfast cake is a delicious way to repurpose and save on food waste!
Ingredients
2 cups whole grain cereal (Cheerios, wheat squares, bran flakes, Puffins, or any kind you have)
1 cup all-purpose flour (unless you are using a rice-based cereal, in which case you can use whole wheat flour)
1 tsp baking powder
½ tsp baking soda
¼ tsp salt
1 tsp cinnamon
¼ cup oil (canola, sunflower, grapes)
½ cup brown sugar
½ cup canned pumpkin, applesauce OR mashed banana
¼ cup plain yogurt
1 egg
¼ cup milk
½ cup chopped apples or pears
For the crumb topping:
2 Tbsp cold butter
3 Tbsp whole wheat flour
3 Tbsp quick oats
3 Tbsp brown sugar
pinch of salt
½ tsp cinnamon
Instructions
Preheat oven to 350. Place cereal in a food processor and pulse until the cereal is finely ground (but it's ok to have some lingering small chunks or coarser crumbs). 2 cups of cereal should yield about 1 cup of very fine cereal crumbs. If you get more or less, measure out 1 cup.
Gently stir together the cereal crumbs, flour, baking powder, baking soda, salt and cinnamon in a medium bowl and set aside.
In a mixing bowl, whisk together the oil, sugar, pumpkin/applesauce/banana, yogurt, egg and milk.
Pour half the flour mixture into the wet ingredients and stir gently to combine, then add the other half and stir until just combined (careful not to over-mix). Fold in the chopped apple or pear. Let batter sit for 5 minutes.
Meanwhile, grease and flour an 8x8 (or 9 inch round) glass baking dish. Then make the crumb topping by stirring together topping ingredients with a fork.
When the batter has sat, use a spatula to scrape it into the baking dish. The batter will be thick, but if it seems too thick to scrape, stir in another 2 Tbsp milk.
Sprinkle the crumb topping over the batter, then bake the cake for 30-40 minutes, or until a knife comes out mostly clean (a few crumbs are ok) when inserted into the middle.
Let cool 15 minutes then serve warm or at room temperature.