When I'm short on dinner ingredients, we often have breakfast for dinner.  It's easy, quick, and usually ends up being our favorite dinner of the week.  Last night's was especially good since I had just received a box of delicious sustainably farmed meats from Applegate Farms which included their new turkey breakfast sausage: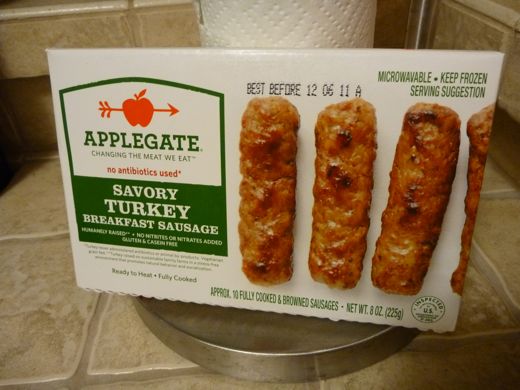 Normally I would steer clear of frozen, pre-cooked breakfast sausage, because until now the only product options were conventional brands made from factory farmed meat and tons of additives (grody).  But Applegate's version is made from sustainably raised free-range turkeys, and the ingredients are simple: turkey, sugar, salt, spices — that's it.  But wait, it get's even better: you can use their online Promise Tracker to find the exact farmer who raised your meat!  So cool.
After heating up the sausages in a skillet, I fried a couple of eggs in olive oil,
and grilled a few baby yellow potatoes that were on the brink of going bad (to grill potatoes, just poke them with a fork and microwave for 2-3 minutes, then slice and place in a grill pan with olive oil, salt, and pepper).
I also sauteed the remainder of a big bag of Southern Greens
with a few sliced mushrooms and green onions, just to make sure our meal included a big dose of veggies.  Then it was time to eat!
Yum!