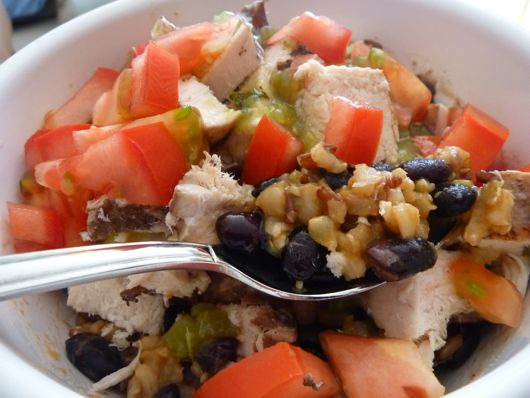 Burrito Bowl
Operation Use-Up-Everything-in-the-Fridge-and-Cupboard continues, since we leave tomorrow for our month-long cross country road trip.  We're getting closer to literally having nothing, but we're still eating pretty well.  For dinner last night we had "Burrito Bowls" made from:
1/4 package dry black beans
3/4 cup wild rice
1 large tomato
1/2 a frozen cooked chicken breast
1/2 jar salsa verde
few shreds of white cheddar cheese
I cooked the beans in water with some salt and a whole shallot, cut in half — it took about 2 hours but was very low-maintenance, and I plopped the chicken breast in the bean water about 15 minutes before they were done, to thaw/cook again.  Cooked the wild rice.  Mixed the beans & rice together with some salsa, topped with the chopped tomatoes, chicken chunks, more salsa, and some shredded cheddar.  We had a few dollops of plain whole milk yogurt, which went to Tyler.  This dinner was surprisingly good, and I'll definitely make it again…maybe with some flavor boosters like fresh cilantro, sliced green onions, and of course more cheese 😉 It could easily be turned into burritos, an entree salad (place on bed of mixed greens tossed with lime juice & olive oil), quesadillas (more cheese + mixture between corn tortillas), or even tossed into an omelet.  So versatile!