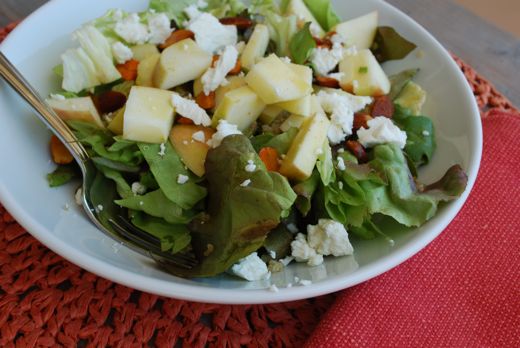 Now that it's mid-June, produce is getting GOOD.  We've been eating salads at least once a day for either lunch or dinner, and even though they're healthy, the ingredients are so flavorful that they feel like a treat!  This one I recently made when I had a little leftover quinoa, but you can easily use any cooked grain you have lying around — brown or wild rice, bulgur, couscous, barley, wheat berries, etc.  At the end, sprinkle your salad with some kind of seasoned sliced or chopped nuts for a surprising little kick.
Enjoy! (Perhaps outside — dining al fresco!)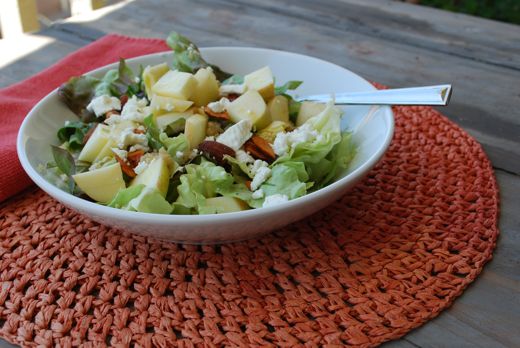 Butter Lettuce Salad with Apples and Quinoa
Ingredients
1 whole Apple, chopped
2 ounces Soft Goat Cheese
¼ cup Sliced or Slivered Almonds, seasoned
½ cup Quinoa, cooked
3 cups Butter lettuce leaves, torn
2 tablespoons Extra Virgin Olive Oil
½ teaspoon Dijon Mustard
1 tablespoon Honey
3 tablespoons Fresh Lemon Juice, from half a lemon
Instructions
Divide torn butter lettuce leaves into two salad bowls. Top salads with apples, quinoa, and almonds, then use your fingers to crumble the goat cheese over the salad.
Whisk together the olive oil, dijon mustard, honey and lemon juice. Toss with salad!