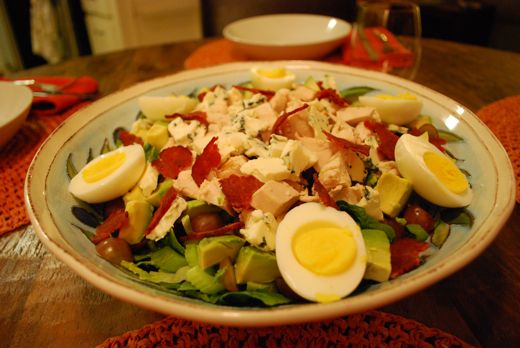 This is my favorite new take on a Cobb salad.  I got the idea from Tin Roof Bistro in Manhattan Beach, and have been making it at home as much as possible.  It has a traditional Cobb salad feel with a few unexpected twists that make it even tastier.  Toss with a vinaigrette or a little blue cheese dressing (make an easy one with crumbled blue cheese, low-fat buttermilk, a dollop of mayo and salt & pepper) for the finishing touch.
California Cobb Salad
Ingredients
2 Cooked Chicken Breast, cut into cubes
1 whole Avocado, cut into cubes
6 cups Romaine Lettuce , chopped or torn
3 stalks Celery, thinly sliced
1 cup Grapes, red or green, cut in half
4 Large Eggs, hard boiled, cut in half
¼ cup Walnuts, toasted
¼ cup Blue Cheese , crumbled
Instructions
Arrange the lettuce around a large platter. Top with the chicken breast, celery, avocado, grape halves, and blue cheese crumbles. Top with the chopped walnuts, then dress with your favorite dressing. Place halved hard boiled eggs around the sides of the platter.