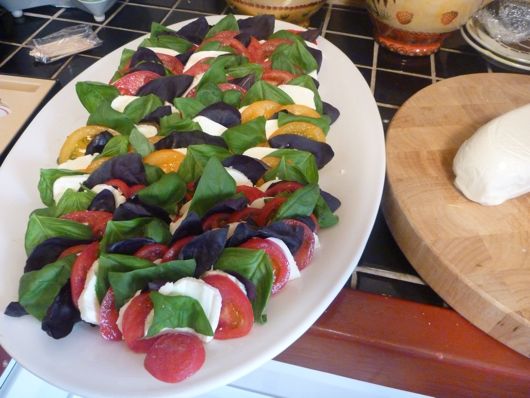 With tomatoes at their ripest, it's the perfect time of year to make a simple, beautiful salad.
Caprese is just thick slices of tomatoes and fresh mozzarella with fresh basil leaves.  Layer these ingredients on a platter, sprinkle with salt & pepper, and drizzle with olive oil.  If you want to get a little fancier, try:
Using a variety of different colored heirloom tomatoes, so the salad is multi-colored.
Mixing a few dollops of pesto in with your olive oil, then pour the pesto oil over your salad as a dressing.
Using a mixture of green & purple basil leaves for an even more colorful salad (check for purple basil at your farmer's market or Asian food market).
Caprese salad is the perfect addition to a brunch menu. Just pair with muffins (or my healthy banana bread) and a big fruit salad and you have a complete meal.
Want more brunch ideas?  This is all you'll ever need to know.