We make pancakes every Saturday morning. So naturally, I consider myself quite the pancake chef, and until a few days ago thought I'd mastered the art of fluffy pancake-making.
Then I made Cheryl Sternman Rule's Tenderest Cardamom Pancakes, featured in her new cookbook: Yogurt Culture. Turns out these are The Fluffiest Pancakes Ever, and thus the pancakes I want to make every weekend from here on out.
I'm not sure what it is about these. Maybe it's the unexpected flavor punch from cardamom. Maybe it's Cheryl's instruction to let the batter sit 5-10 minutes before cooking. Or maybe it's the perfectly-sized mini pancake turner that Oxo sent me to use for this recipe (probably not, but it sure was handy).
All I know is these pancakes are top notch.
My sous chef thought so too.
Lucy loved them so much, she wanted to eat them exactly as they were photographed in the cookbook 😉
We used our favorite plain whole milk yogurt (Stonyfield) in the recipe, then topped the finished pancakes with more yogurt, a generous drizzle of honey and pitted fresh cherries.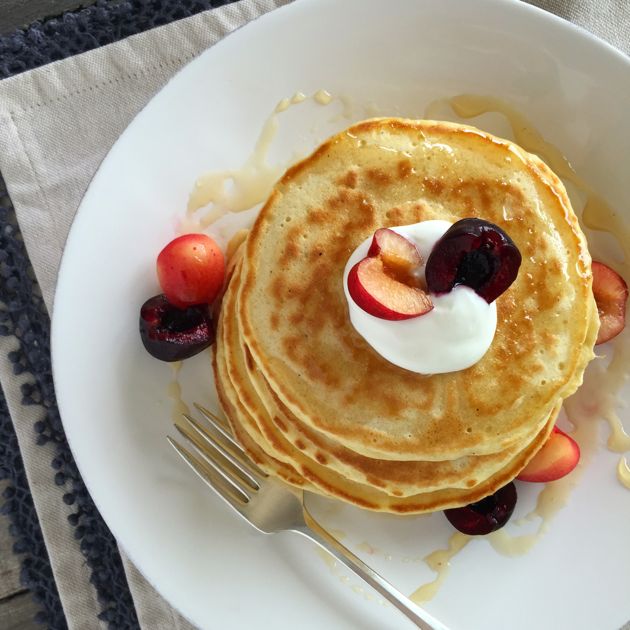 This was truly a recipe to remember, and I can't wait try some of the other fabulous-looking dishes in Yogurt Culture, all of which celebrate my most favorite food in the world. Iced Almond-Lemon Loaf Cake is next on the must-make list!

Tenderest Cardamom Pancakes
Yogurt transforms a simple whisk-up batter into the lightest, fluffiest, tenderest, and most magical pancakes imaginable. Any extra batter keeps nicely in a covered jar in the fridge for 2 or 3 days.
Author:
Cheryl Sternman Rule
Ingredients
3 cups all-purpose flour
2 teaspoons baking powder
1 teaspoon baking soda
1 teaspoon ground cardamom
¼ teaspoon kosher salt
1½ cups plain yogurt (not Greek) or whey
1½ cups milk, preferably whole or 2%
4 large eggs
4 tablespoons (½ stick) unsalted butter, melted and cooled slightly, plus additional for the griddle Maple syrup and/or additional yogurt, for serving (optional)
Instructions
In a large bowl, whisk together the flour, baking powder, baking soda, cardamom, and salt.
In a medium bowl, whisk the yogurt and milk until smooth. Then whisk in the eggs, followed by the butter.
Scrape the wet ingredients into the dry. Switch to a large silicone spatula and combine thoroughly, sweeping the sides and bottom of the bowl; do not overmix. The batter will be a bit lumpy but should have no powdery pockets. Set aside to rest for 5 to 10 minutes.
Heat a cast-iron griddle or skillet over medium-high heat. When a drop of water on the griddle sizzles and evaporates, coat the griddle with butter.
Dragging your spoon or scoop in a round (this creates thinner pancakes), distribute about 3 tablespoons batter per pancake onto the griddle. Cook for 1 to 2 minutes per side, until deep golden. Work in batches, slicking the griddle with more butter as you go.
Serve with maple syrup and additional yogurt, if desired.
Notes
Reprinted with permission from Yogurt Culture, Cheryl Sternman Rule's new cookbook
This post is sponsored by Stonyfield, and in partnership with Yogurt Culture and Oxo. As always, all thoughts and opinions are 100% my own. Thank you so much for reading and supporting my blog.