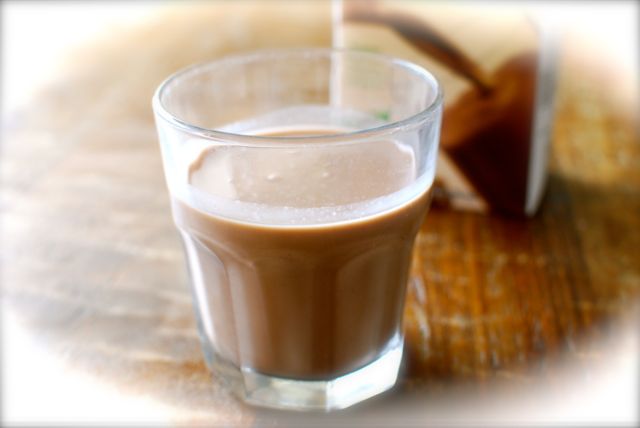 Carrageenan sounds harmless enough at first glance: a derivative of red seaweed used as a thickener, stabilizer or emulsifier in many dairy foods and dairy alternatives.
But research has actually linked carrageenan to increased inflammation in the body – particularly gastrointestinal inflammation which can cause colitis-like disease and tumor promotion. Yikes!
The really scary thing is, carrageenan is found in SO MUCH of what we eat, even organic foods and other favorites of many "healthy eaters." While it's probably not harmful in very small amounts, if you're relying on carrageenan-containing foods regularly, you may be putting your health at risk.
Here are just a handful of popular foods that contain carrageenan, as well as some better alternatives that do not.
CONTAIN CARRAGEENAN

DO NOT CONTAIN CARAGEENAN

Chocolate Milk

Horizon Organic
Clover Stornetta
Kirkland Signature
Organic Valley (shelf-stable only)
Troo Moo (Alta Dena)
Most other chocolate milks

Chocolate Milk

Organic Valley (refrigerated)
Straus Family Creamery
Castle Rock Organic
Strafford Organic

Cottage Cheese

Whole Foods 365
Cabot Creamery
Clover Stornetta
Horizon Organic
Publix
Trader Joe's

Cottage Cheese

Nancy's
Organic Valley
Kalona Supernatural

Sour Cream

Horizon Organic
Natural by Nature
Publix

Sour Cream

Whole Foods
Organic Valley
Nancy's
Wallaby Organic
Straus Family Creamery

Almond Milk

Almond Breeze
Almond Dream
So Delicious
Trader Joe's (shelf-stable)
Pacific Foods
President's Choice
Califia Farms

Almond Milk

Whole Foods 365
Silk PureAlmond
WestSoy
Simple Truth
Trader Joe's (refrigerated)
Tree of Life

Soy Milk

All soy milk not listed to the right contains carrageenan

Soy Milk

Organic Valley
EdenSoy
Pacific Foods (organic unsweetened original)
WestSoy
Trader Joe's shelf-stable unsweetened (all other TJ's have carrageenan)
Soy Dream
Tofu Shop
Twin Oaks

Coconut Milk

Coconut Dream
So Delicious
Silk Pure Coconut
Trader Joe's
Almond Breeze
Zico (chocolate)

Coconut Milk

Thai Kitchen
Tropical Traditions
Cadia
Blue Monkey
Coconut waters not listed to the right

Coffee Creamer (non-dairy)

So Delicious
Silk
Trader Joe's
Whole Foods 365
So Nice
Wildwod

Coffee Creamer (non-dairy)
Eggnog

Horizon Organic
Clover Stornetta

Eggnog

Organic Valley
Straus Family Creamery
By no means is this an exhaustive list. There are MANY other prepared foods, dairy foods, non-dairy alternatives, juices, etc – both organic and conventional – that contain carrageenan.
Here's a very extensive shopping guide to help you avoid products with carrageenan.
In general, the best ways to minimize your exposure to carrageenan are:
Limit packaged and processed foods.
Read ingredients lists and choose brands that do not use carrageenan.
Make food from scratch when possible (like almond milk – it's easy!)