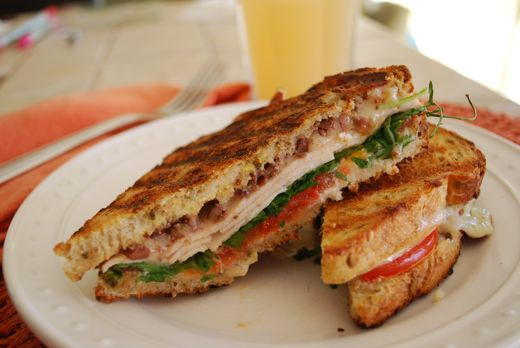 Bored with the usual deli sandwiches?  Make a panini!  Paninis are great because with a few fun ingredients, you can easily turn a run-of-the-mill sandwich into a melty, gooey, crispy lunch — without having to add butter or oil to the bread.
The options for paninis are endless, so if you need an idea to start with, I highly recommend this Chicken Panini I made the other day with some of Applegate's humanely-raised roasted chicken breast (remember our Breakfast For Dinner from a few weeks ago with the savory turkey sausage? Same great company).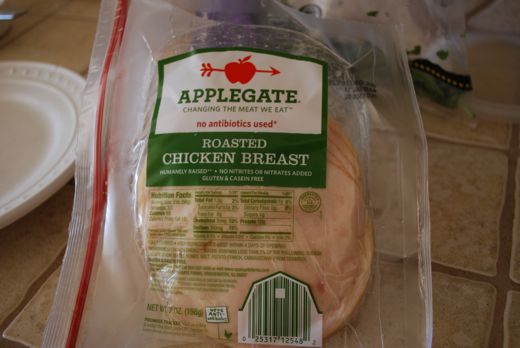 I started with one of my favorite breads — Potato Toasted Onion bread from the farmer's market — on which I spread some Dijon mustard, olive tapenade, and soft goat cheese.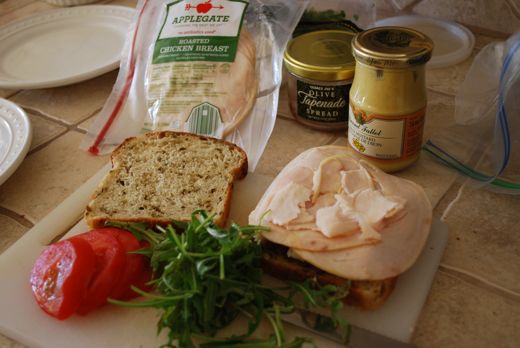 Then added a few pieces of the chicken breast, a pile of arugula, some thin tomato slices, and a little more cheese, mozzarella this time.  Plopped this sandwich into an ungreased grill pan (you could also use a regular skillet) and placed a small pot on top of the sandwich to act as the press.  A few minutes on medium-low heat, then turned the sandwich over and within another few minutes, it was ready for digging in.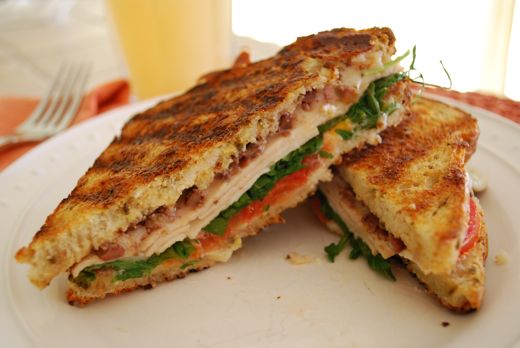 I have another package of Applegate's chicken breast in the fridge, which I want to use in a sweet & savory panini next time.  I'm thinking Ciabatta bread with apricot preserves, brie, and fresh basil or spinach leaves…mmmm…stay tuned!