A few panty staples and a couple fresh ingredients in this light and summery chickpea salad with tomatoes and cucumbers.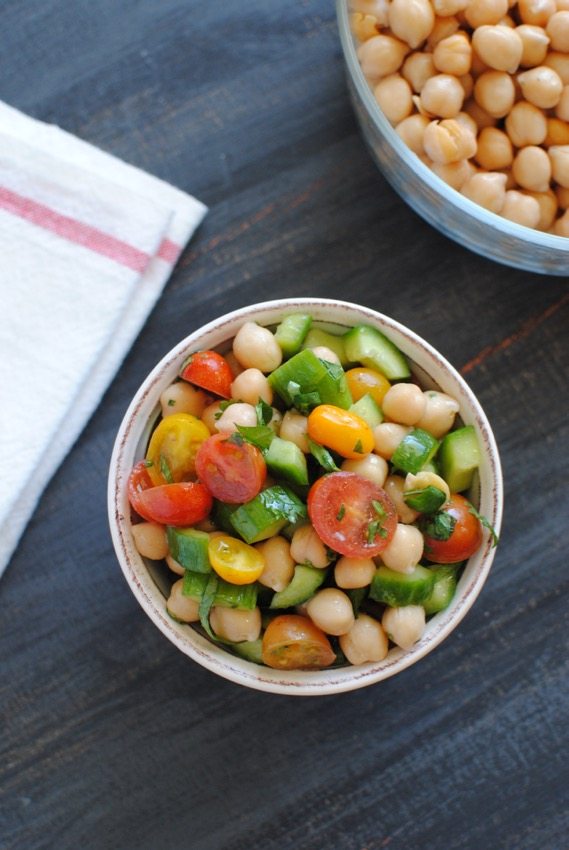 Supposedly it's "The Year of The Pulse," which until recently meant nothing to me since I had no idea what a pulse was. But, I have since done a little Googling, and have realized that I'm actually quite trendy since I already love pulses. Yesssss.
So what is a pulse? Here's the lowdown, according to Tastemade:
"Plants with their fruit enclosed in a pod are legumes. A pulse is the dried seed from the interior of that pod. Pulses include pinto beans, navy beans, kidney beans, lentils, chickpeas, mung beans, adzuki beans, lima beans, haricot beans, broad beans, and yes, black-eyed peas."
Which in my opinion means that pulses are pretty much "dried beans." A food category that has long had my heart. Why? Because dried beans are:
Easy to cook no matter your skill level
High in protein and fiber, and thus make great plant-based entrees
Very inexpensive
Great for cooking in a large batch which can become a wide variety of different meals
They also take away any worry about BPA-lined cans, since many canned beans still contain the toxic chemicals BPA or BPS in the lining (though I admit, I keep canned beans in my pantry too).
What's not to love?
I usually make a pot of dried beans every week. Some get eaten alongside rice and veggies, some get added to salads or blended into dips, and toward the end of the week they tend to become soups or veggie burgers. Having these beans on-hand makes our mealtimes so much easier.
The other day I made this simple Chickpea Salad with Tomatoes and Cucumbers from a big batch of chickpeas I'd cooked up. Though this recipe only has a few ingredients, the salad is SO good. Light, fresh and summery – yet super satisfying.
This simple salad is best served when tomatoes and cucumbers are at peak ripeness, since you'll want each ingredient's flavor to really shine. With summer around the corner, we're almost there!
Whether you serve this as a light lunch, a side dish at a summer BBQ, or with a fried egg on top for dinner – I think you're going to love it and will soon become a Pulse Person too if you're not already. 😉

Chickpea Salad with Tomatoes and Cucumbers
A simple yet flavorful salad that's perfect for summer or anytime you need a delicious vegetarian side dish.
Ingredients
Juice of 1 small lemon
3 Tbsp olive oil
½ tsp salt
¼ tsp pepper
2 cups cooked chickpeas (a.k.a garbanzo beans)
2 cups halved grape tomatoes
2 cups diced cucumber
½ cup chopped flat leaf parsley
Instructions
Whisk lemon juice, olive oil, salt and pepper together in the bottom of a large bowl.
Add remaining ingredients and toss gently to coat. Serve at room temperature.
Store any uneaten salad in an airtight container in the fridge for up to 3 days.