Everyone's favorite Chinese Chicken Salad, with kale for extra nutrition and a modern flavor twist!
As much as I love slaws and cabbage salads, sometimes they can be a little too…cabbagey. So much chewing is required, and for so long, that a whole bowl of the stuff can be exhausting. 😉
Thankfully, my friends at Earthbound Farm have come up with three Kale Blends, two of which are mixtures of various kinds of chopped kale and cabbage. I've been loving these blends (not having to wash, de-stem and chop the kale is awesome) and recently found that any of the blends work wonderfully in Chinese Chicken Salad.
For this particular recipe, I used the Cook Me blend. Though it's called "Cook Me," you don't have to cook it – and the blend of chopped kale, cabbage and shredded carrots is ideal here. Just enough cabbage + plenty of robust kale gives this salad a perfect balance of taste, texture and crunch.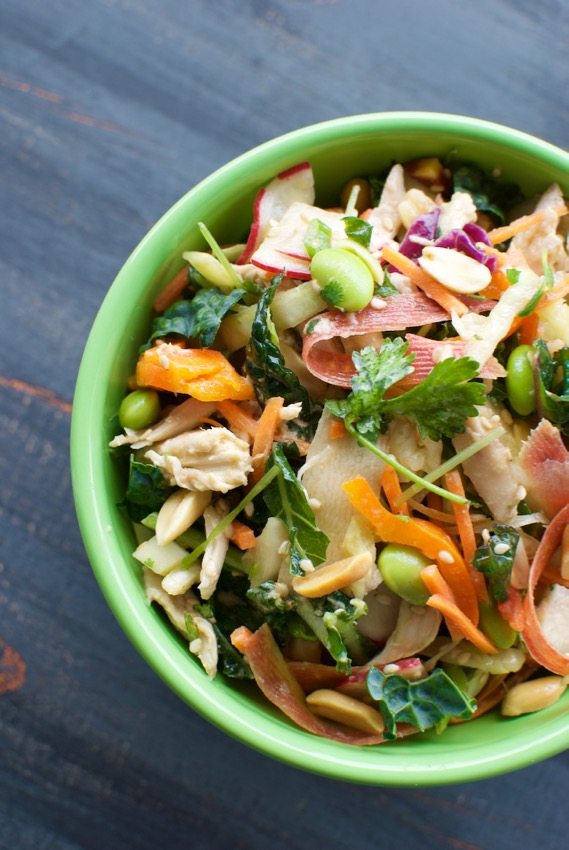 You'll notice this salad has a lot of ingredients, but you can absolutely leave one or two of them out and still end up with a delicious result. The key is to chop everything well enough so you can get a few different tastes in each bite.
To make this vegetarian, swap the chicken for tofu or more edamame, or simply skip the chicken part.
Can't wait to hear what you think of this salad. It's quickly become one of my favorites!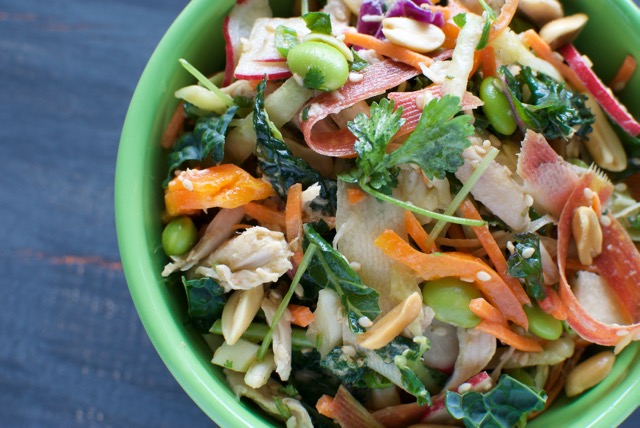 Chinese Chicken Kale Salad with Peanut Dressing
Everyone's favorite Chinese Chicken Salad, with kale for extra nutrition and a modern flavor twist!
Serves:
4 main dish servings
Ingredients
2 carrots, peeled into long ribbons using a vegetable peeler
1 cup shelled edamame, cooked and cooled
1 cup chopped or julienned jicama (remove skin first)
½ cup sliced radishes
1 orange or yellow bell pepper, cut into thin strips
¼ cup cilantro leaves
2 green onions, thinly sliced
2 cups cooked chicken, shredded or diced
⅓ cup chopped peanuts
¼ cup toasted sesame seeds
For the dressing:
¼ cup creamy peanut butter
⅓ cup rice vinegar
2 Tbsp sugar
2 Tbsp sesame oil
2 Tbsp soy sauce
2 Tbsp minced ginger, fresh or from a jar
Instructions
Whisk dressing ingredients in the bottom of a large bowl until smooth. If the dressing seems too thick, add a little more rice vinegar or water (1-2 Tbsp).
Add the kale blend and use your hands to toss with the dressing. Let sit in the dressing for 10 minutes.
Add the remaining salad ingredients to the bowl and toss until all ingredients are coated with dressing. Garnish with additional sesame seeds or peanuts, if desired.
Serve right away, or up to 2 hours later (move to the fridge if you'll be serving later).
This is not a sponsored post. However, Earthbound Farm and I are ongoing partners, and I did receive product from them to play around with. All thoughts and opinions are 100% my own.