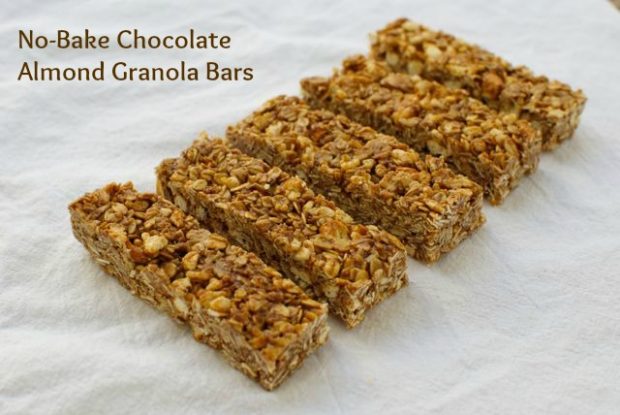 Since making these peanut butter pretzel granola bars a couple years ago, I've been somewhat of a homemade granola bar fanatic. Whereas a packaged granola bar feels like something you eat when there's nothing else around, a homemade granola bar feels like a real treat. The kind of snack you want to eat, whether you're on the run or not.
These days, I'm usually in need of new satisfying, portable snacks. One can only eat so many handfuls of nuts before one gets bored!
So I've started experimenting with different granola bar recipes and combining some of my favorite ingredients. When I made these Chocolate Almond Butter Granola Bars, I knew I had a winner.
One batch of these was gone in just two days, and though I did have some nibbling help, I did most of the damage myself.
Here's what I love about these granola bars:
They're homemade, so no weird ingredients or additives to worry about
They're satisfying, thanks to whole grains, nuts and healthy fat
They are DELICIOUS
I think I've said enough. Just make 'em already 😉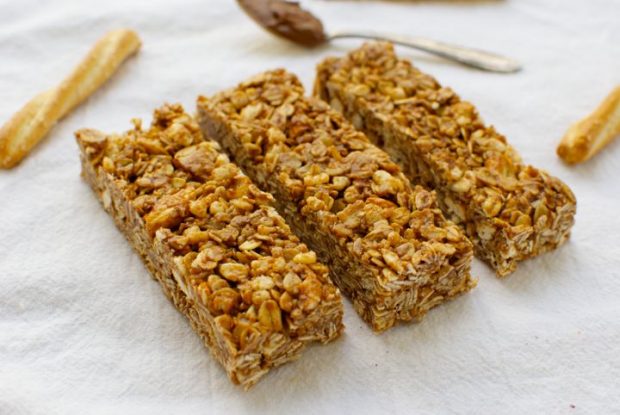 No-Bake Chocolate Almond Butter Granola Bars
The perfect on-the-go snack or lunchbox treat, these granola bars are a winner with kids and adults alike!
Ingredients
¼ cup coconut oil
¼ cup honey
¼ cup brown sugar
¼ cup chocolate hazelnut almond butter (I used Justin's)
1 tsp vanilla extract
2 cups old fashioned oats
½ cup crispy rice cereal
¼ cup sliced almonds
½ cup chopped honey wheat pretzels
Instructions
Line the bottom of an 8x8 inch square baking pan with parchment paper and spray with nonstick cooking spray.
In a small saucepan, heat butter, brown sugar, honey and chocolate almond butter over medium heat, stirring occasionally until the mixture begins to simmer.
Once mixture is bubbling, stir constantly for about 2 minutes or until mixture is smooth and glossy. Remove from heat and stir in vanilla extract.
Stir in the oats, rice crispy cereal, pretzels and sliced almonds until dry ingredients are evenly coated.
Spread the oats mixture into the 8x8 pan and press into an even layer.
Let bars cool for at least one hour, then cut and serve. If bars are sticky, place in fridge for 15-20 minutes then try cutting them again.
Store extra bars in the fridge, but remove 10-15 minutes before enjoying a bar, as they will be very hard when cold.
Notes
To make gluten free, use gluten-free pretzels, or swap pretzels for more chopped nuts, and be sure to use certified gluten-free oats.
Also, Reader Survey results are in and we have a winner of the Whole Foods gift card:
Congratulations, Emily and thank you EVERYONE for filling out my survey! Can't wait to put all your feedback into action and give you more of what you really want. 🙂