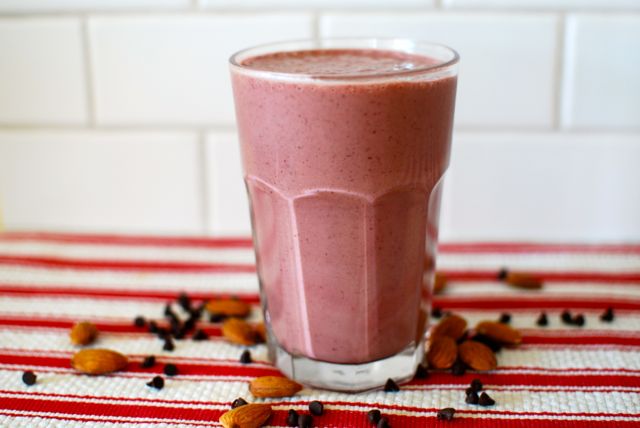 Whether you like super healthy green smoothies, or rich & indulgent sweet smoothies, summer is the perfect time to enjoy these cold frosty snacks.  We make so many smoothies during the summer months that I can't keep track of all the combinations we concoct. But THIS one was different. It was a smoothie to remember. In fact, right after drinking it I immediately made a second batch so I wouldn't forget what was in it!
Cherries + chocolate milk + Greek yogurt + almonds + vanilla extract + chocolate chips = heaven.
I used frozen cherries this time since I love a thick, frosty consistency, but you could easily use fresh since it's cherry season.
For the yogurt and milk, I always recommend using organic if you can.
This Chocolate Cherry Almond Smoothie would make the perfect Fourth of July breakfast. Though it's not exactly red, it's close, and there is really no better way to start off a fabulous summer holiday!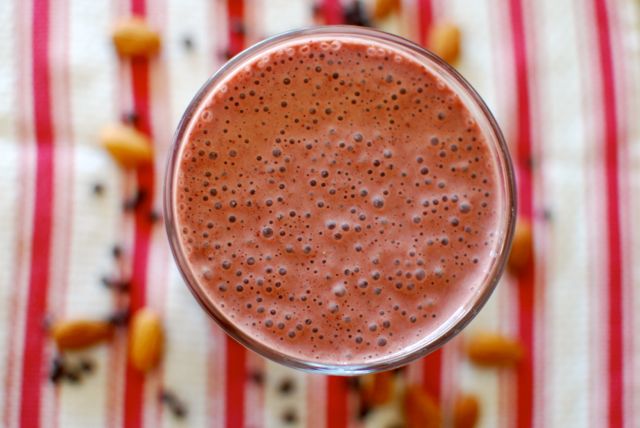 Happy Fourth of July!!
Chocolate Cherry Almond Smoothie
Ingredients
1.5 cups chocolate low-fat milk
1 cup organic nonfat Greek yogurt
½ tsp vanilla extract
2 Tbsp almonds
1 Tbsp chocolate chips
2.5 cups frozen cherries
Ice cubes, to taste
Instructions
Place all ingredients in a blender, beginning with the chocolate milk and yogurt (which will help the mixture blend more easily).
Pulse to combine, then blend until the mixture is smooth and creamy.
Add ice cubes a few at a time to make the smoothie thicker, if desired.
Pour into two glasses and enjoy!
Notes
To make this smoothie dairy-free, simply replace the yogurt with 1 cup silken tofu and use chocolate almond milk or chocolate soymilk.