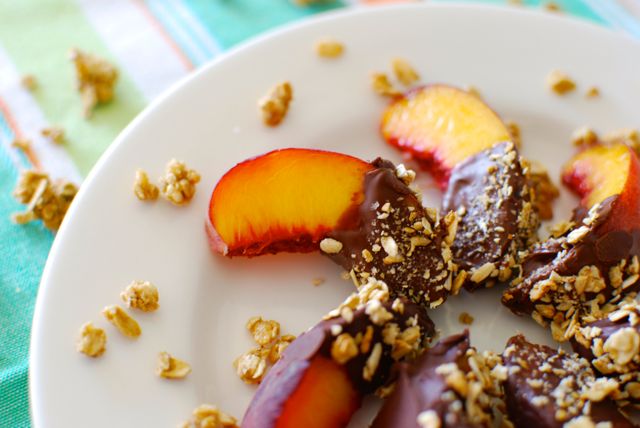 This sponsored post is part of a social shopper marketing insight campaign with Pollinate Media Group™ and Cooking Light. As always, all opinions are my own. #pmedia #BTSatSafeway

Despite its bad reputation, snacking can actually be good for you. Eating a little something between meals helps keep energy up, metabolism steady, and may encourage healthier choices come mealtime.
Of course, what you snack on is key. As is how you snack. Here are a few tips for smart snacking:
Include vegetables and fruits whenever possible. Choose vibrantly-colored, in-season produce to maximize appeal and taste.
Make snacks a combination of carbs (fruits, veggies, whole grain crackers, popcorn), protein (cheese, yogurt, nuts or boiled eggs) and fat (included in the protein foods mentioned). This mix of nutrients keeps you satisfied and your energy up.
Limit snacks to 150-200 calories. Much more than that and the snack becomes a meal.
Instead of buying "snack food," make snacks out of the same healthy ingredients you'd use to make a meal.
Create a healthy snack environment, since what you see is what you'll eat. Keep healthy, ready-to-eat foods in your fridge and pantry.
Portion servings out ahead of time, so you don't find yourself continually reaching into a bag or container for more.
Since coming up with new healthy snack ideas can be a challenge, I am constantly keeping an eye out for inspiration. When I see something that looks easy or utilizes fruits and vegetables in a creative way, I add it to my "Snacks to Try" folder on Evernote. Every week or two I add a new snack into our rotation, which helps to keep our healthy eating routine interesting and more fun!
One of my latest creations was from this guy:
which you can find at Safeway/Vons (Tip: get $3 off this recipe book through August 30 via Safeway's Just for U portal).
The first recipe that caught my eye was Chocolate-Granola Apple Wedges, since it only called for 3 ingredients. Apples aren't in season quite yet here in Southern California, so I improvised a little and used fresh peaches.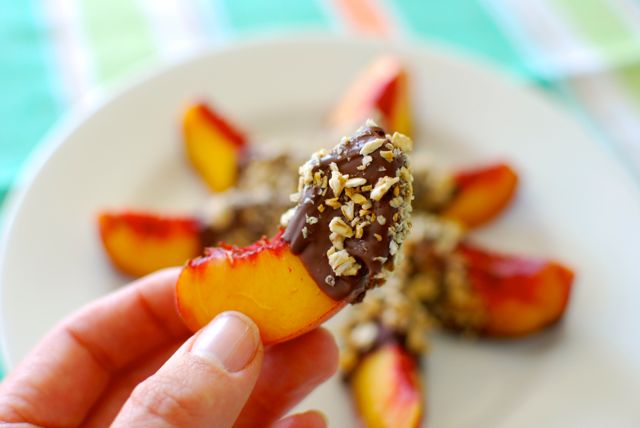 Oh my goodness, were these delicious – not to mention simple and quick!
Can't wait to make them again with apples this fall – perhaps dipped in nuts next time for a little more protein and healthy fat. Yum!
What are your favorite quick and easy snacks this time of year?